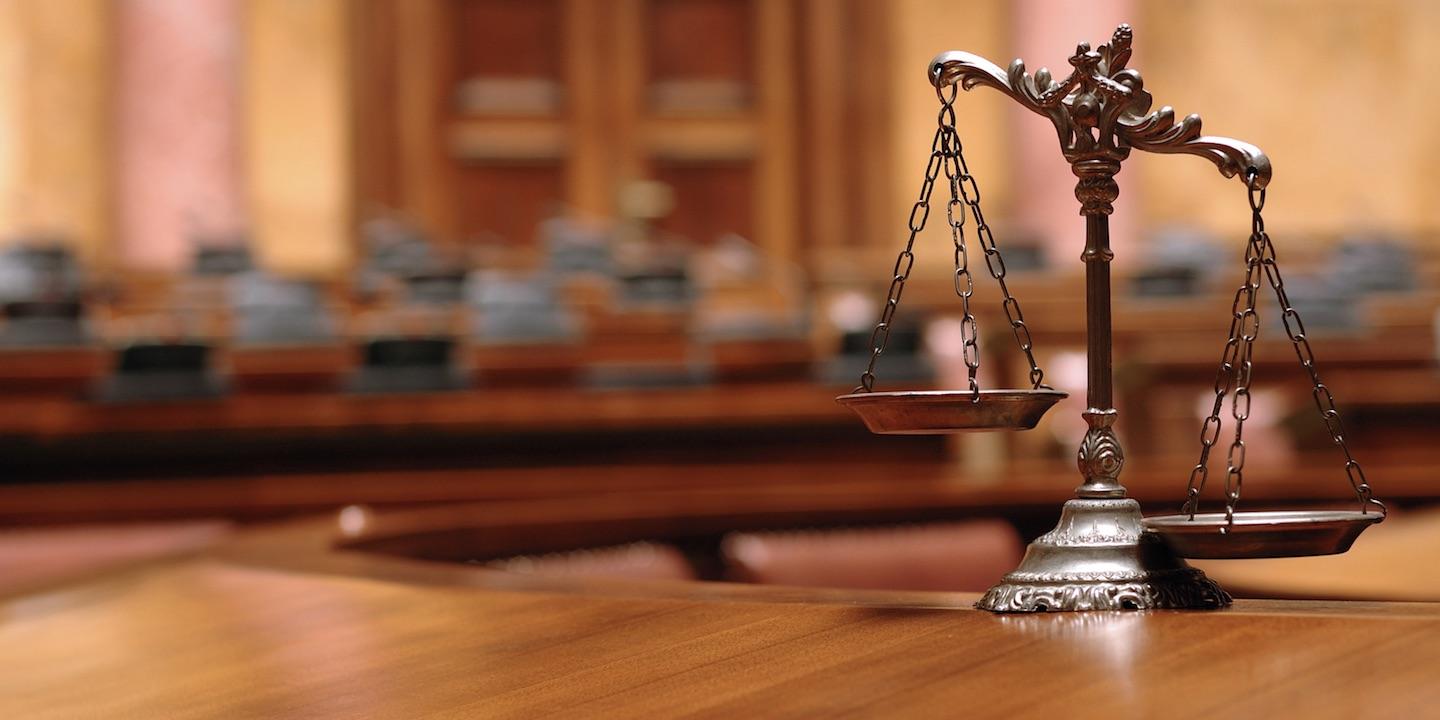 BELLEVILLE – Movements are underway in the Twentieth Judicial Circuit to oust two judges from office, alleging unfair and unethical conduct.
One of the two judges, however, has rebutted his critics, saying his fairness is proven.
"People who know me and practice law in front of me have evaluated me by secret ballot," Judge Andrew Gleeson told the Record. "The group consists of Democrats, Republicans and Independents. The latest evaluation results rate my integrity at 94.38 (percent), impartiality 90.24, legal ability 97.97 and fairness 97.71. Those are the facts as evidenced by an anonymous, independent bi-partisan poll."

Protesters gathered at Democrat fundraiser in Belleville Tuesday.
Gleeson, chief judge, and Circuit Judge Zina Cruse - whose record also is being challenged - were both elected as Democrats in 2012 and are currently up for retention to additional six-year terms in next month's election.
Judges running for retention do not run as partisans. For Gleeson and Cruse, voters in St. Clair, Monroe, Perry, Randolph and Washington counties will choose "yes" or "no" on the question of retention. To be retained, they need 60 percent voter approval.
Another judicial candidate running for retention in the circuit - in those same counties - is Daniel Emge, a resident judge of Washington County, and Republican, who is not facing any apparent opposition.
If Gleeson and Cruse survive their retention battles, it will be the first time Democrat judges in the Twentieth Judicial Circuit have been retained since the 2013 drug scandal involving Michael Cook, the former circuit judge who was sentenced to two years in prison after pleading guilty to heroin possession and gun charges.
Cook's open seat became a contest between Republican Stephen McGlynn, who was appointed by the Illinois Supreme Court after Cook's departure, and associate judge Heinz Rudolf, Democrat. The 2014 race dealt heavily with issues that arose from Cook's problems - including the overdose death of associate judge Joe Christ and the drug dealing guilty plea of county probation officer James Fogarty, with McGlynn winning the seat.
In the next election cycle of 2016, Democrat judges who were up for retention - John Baricevic, Robert LeChien and Robert Haida - opted to resign their seats and then run for them as vacant seats that needed filling. The advantage in running for election over retention is the threshold for winning - 60 percent for retention versus 50 percent plus one in an election.
At the time, Baricevic explained the reason he, LeChien and Haida decided to run for election was so that they could openly discuss the drug issue. He said that had they run for retention, with no opposition and not on a partisan ballot, they would not have been allowed to campaign on issues.
In that election, Baricevic and LeChien faced opposition from Republican candidates. Ron Duebbert defeated Baricevic, who had been chief judge. LeChien defeated Laninya Cason, who had previously served as an associate judge.
Haida was unopposed and won election.
Community activist Donna Ayres of Cahokia is among a group of individuals advocating for Gleeson not to be retained.
"I am a normal person on the outside looking at the inside of the courthouse," she said.
Ayres has been an outspoken supporter of Duebbert, who since defeating Baricevic has been sidelined from handling a docket. Gleeson placed Duebbert on administrative leave soon after he was sworn into office because of a relationship Duebbert had with a young man released from prison shortly before his election.
About a month after Duebbert was sworn in, that young man, David Fields, was accused of a first degree murder in Belleville. The case went to trial in July and a mistrial was declared on the third day of testimony after a prosecution witness made statements in front of the jury that had been considered off limits.
In his tenure as judge, Duebbert also has faced criminal prosecution on charges that he sexually assaulted a former client before he became judge. State's Attorney Brendan Kelly requested a special prosecutor to investigate - charges that were defeated when the alleged victim chose not to pursue the case four days before trial.
Gleeson has maintained that the sidelining of Duebbert involves alleged "false and deceptive" information given to police investigating the homicide that Fields is accused of.
Ayres criticized Gleeson saying his treatment of Duebbert has been "unfair."
"Ron (Duebbert) is about as honest as they come," Ayres said.
She said she is often at the courthouse communicating with the elections office in preparation for a run for mayor in Cahokia next year, as well as observing court proceedings.
"I know I am a thorn in his (Gleeson's) side," Ayres said.
Ayres also took issue with the chief judge for taking a year to fill a vacancy created when LeChien died in office last August.
She said Gleeson represented to voters that he did not have the budget to fill it or the authority to ask that the vacancy be filled, but then close to a year later asked the Supreme Court to temporarily fill the seat.
She further said that Gleeson promised to set up a drug testing program in the circuit, but that never materialized, and wasted taxpayer money.
A second ouster attempt is against Cruse, an at-large judge who presides over a felony criminal docket in the St. Clair County courthouse.
Calls to Cruse for comment went unreturned.
An organizer of the "No on Cruse Retention" campaign effort is Lori Friess, of Belleville, who indicated her wish to see Cruse removed is partly personal. Her grandson was allegedly murdered by a man, the boyfriend of Friess' daughter, whose bond was drastically cut by Cruse, allowing him out of jail pending trial.
Gyasi Campbell, 24, is currently under house arrest with trial set in January for the murder of Friess' grandson, Kane Friess-Wylie. The Belleville boy, aged two, suffered skull fractures at the time of his death on April 13, 2017.
Friess is heading a "Justice for Kane" movement as well as calling for Cruse not to be retained.
Cruse dropped Campbell's bail from $1 million to $150,000, allowing him to post 10 percent at $15,000 to get out of jail and wait under house arrest where Friess said he remains an escape risk.
"After this man (Campbell) did this to my grandson, I do not want her (Cruse) retained as a judge," Friess told the Record. "Voters need to write 'no.' If you leave it (ballot) blank, it counts as a yes vote."
Friess said Cruse has a history of letting criminals go free.
She called Campbell a drug dealer who had been featured on the TV show Crime Stoppers.
Friess added she is holding a fundraising benefit event to honor her grandson, generate supporters and hold Cruse accountable.
The election takes place on Nov. 6. Friess said people need to register to vote by Oct. 9.
Protesters against both judges were seen picketing at a Democratic fundraiser for Cruse outside Big Daddy's on East Main in Belleville on Tuesday afternoon.