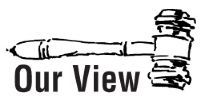 Democrats in the Illinois General Assembly have their priorities. Getting a budget passed may not be one of them, but finding new sources of revenue to share with their cronies – or simply squander – apparently is.
Surely, being lawmakers, they must know the meaning of the phrase "ex post facto," but the blatant unconstitutionality of the means they've devised for securing new revenue seems not to matter to some of these greedy-guts.
On party lines, the Senate passed a bill expanding last year's Unclaimed Life Insurance Benefits Act to require insurance companies to locate beneficiaries of unclaimed life insurance policies as far back as 1996. The House passed the bill in April.
"Unclaimed property laws require companies to transfer... to state treasuries any money or property deemed abandoned after a certain period of inactivity by the property's last-known owner," explains the U.S. Chamber's Institute for Legal Reform (ILR).
"State unclaimed property administrators have increased their reliance on private audit firms to collect purportedly unclaimed property on behalf of the state in exchange for a percentage of the proceeds," ILR reports. "The use of contingency-fee firms injects a private profit motive into enforcement of state laws and carries a significant risk of abuse as audits have become increasingly aggressive and overreaching."
Republican State Sen. Kyle McCarter had a cogent reason for opposing the legislation. "This bill is not constitutional," he said, as it would impose new obligations on preexisting contracts retroactively.
McCarter also said that compliance with the demands of the law would be "extremely burdensome on business."
Regarding the use of private audit firms, ILR recommends establishing several sensible protocols, such as "a transparent and open bidding process, a prohibition on contingency-fee arrangements, increased state control over privately conducted audits of unclaimed property holders, and the issuance of formal audit findings."
If the legislation becomes law, it probably will be challenged. And if found to be unconstitutional, some of our legislators will have to find another way to subsidize their profligacy.
Editor's note: The Record is owned by the U.S. Chamber Institute for Legal Reform.