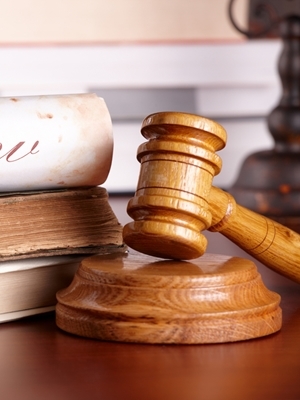 Illinois Lawsuit Abuse Watch rallied outside the St. Clair County courthouse last week to protest the actions of three local judges the group says are "gaming" the system.
Wednesday's rally centered on St. Clair County Chief Judge John Baricevic and Circuit Judges Robert LeChien and Robert Haida who last August submitted resignations to go into effect at the end of their terms this December. After the judges effectively resigned, they subsequently filed nomination papers to run for election to the same positions, rather than run for retention.
Election only requires a simple majority vote, whereas retention requires 60 percent voter approval.
"These people … have talked for a long time, for two years some of them, about running a campaign to defeat us, and we wanted to be able to respond to their challenges," Baricevic told the Record.
The judges' candidacies are currently being challenged in court.
Baricevic maintains that the state constitution outlines two paths by which judges can take positions: election and retention.
"In either case, the public gets to decide," Baricevic said. "They are the voters, they will pick the candidate that they think is best, the only really difference between the two is that we get to respond. When you run for election you can campaign. Other than that they're relatively identical."
I-LAW Executive Director Travis Akin and the 10 rally participants disagreed.
"Madison and Saint Clair County both have a long history of being known as judicial hellholes," Akin said. "What makes them judicial hellholes begins with judges. This is just another example of the problems that exist and continue to exist in St. Clair and Madison County."
In previous interviews, Baricevic has said that running for election over retention will allow him and his fellow judges to discuss sensitive issues such as the drug dependency of former Judge Michael Cook.
Baricevic said that whether they talk about it or not, the issue will be there.
"I've been on the record about that for three years, and I'll be happy to discuss it again with any voter that thinks it's important," he said.
Baricevic said the actions of Republican candidates is the real motivation for him and his fellow Democratic judges to seek election rather than retention.
"We haven't challenged our opponents' candidacies, they have. Apparently, they're not comfortable with their candidates taking their qualifications to the voter," Baricevic said.
The Fourth District Appellate Court is reviewing a lower court decision that held that Baricevic, Haida, and LeChien had properly exercised an option laid out in the state constitution.
The judgment rested largely on the wording of the constitution which says that a judge "may" stand for retention. This, the court reasoned, meant that the judge may also choose the other option – election.
"It may be found to be perfectly legal," Akin said. "We just don't think it passes the small test."