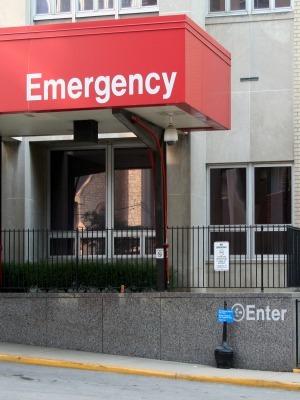 EDWARDSVILLE – Anderson Hospital is being sued after a patient allegedly fell and sustained severe injuries to his head while waiting in the emergency room, eventually leading to his death.
Lora Rasmussen, individually and as special administrator of the estate of David Tab Rasmussen, filed the suit March 2 in Madison County Circuit Court against Southern Illinois Health Facilities, doing business as Anderson Hospital, and Uptown Emergency Physicians LLP.
On March 6, 2014, the deceased came to the emergency room at Anderson Hospital for a right shoulder injury unrelated to this matter. While in the emergency room, the plaintiff, who was in a neurologically impaired state, was allegedly left unattended and fell. He struck his head on the floor, resulting in a subdural hematoma, a subarachnoid hemorrhage, a left occipital bone fracture, and eventual death on Aug. 7, 2014, according to the complaint.
The suit brings six counts against the defendants, including wrongful death and survival action.
According to the complaint, the defendants negligently and carelessly failed to properly evaluate the deceased's condition, failed to recognize that he was in a neurologically impaired state, failed to monitor the deceased while under their care and failed to assure the quality and appropriateness of care provided to the defendant.
As a result, the deceased incurred pain and suffering and eventual death. The plaintiff has sustained pecuniary injury including loss of society, grief, sorrow and mental suffering in that the acts of alleged negligence caused the death of the deceased.
The plaintiff seeks judgment against all defendants for all counts in an amount in excess of $50,000 for the damages sustained plus court costs. She is represented by Thomas J. Lech of Goldenberg Heller & Antognoli PC in Edwardsville.
Madison County Circuit Court case number 16-L-297