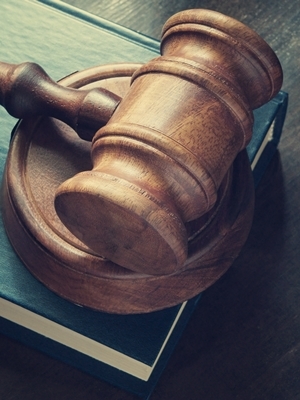 Three of four judicial candidates seeking a seat at the Fifth District Appellate Court have been rated highly qualified by evaluators of the Illinois State Bar Association (ISBA).
But Madison County Circuit Judge John Barberis received a "not qualified" rating, according to results released on Friday. Barberis seeks the Republican nomination to the vacancy created by Justice Bruce Stewart who retires in December.
Barberis said he was "very disappointed" in the results, but not surprised by them.
He called into question the integrity of the evaluation process, which included a panel of eight ISBA members interviewing him in early February. He said the hour-long interview seemed to go well, and he was given positive feedback on what the ISBA learned about him during 40 hours of investigation conducted beforehand.
When he learned about two weeks ago that he was neither going to get rated "highly qualified" or "qualified," he said the lack of endorsement wasn't the "main reason" he was disappointed.
It was that one of the panel members who interviewed him was an appointed official from Madison County whom Barberis did not support for re-appointment, he said.
"The only question he (the official) asked was whether I was going to get financed by Bruce Rauner," Barberis said. "How that has any bearing on my ability to be an appellate judge...It was very, very inappropriate to ask that."
Barberis said he didn't believe the Madison County official whom he didn't vote to re-appoint should have sat on the panel.
"He should have recused himself," Barberis said.
Barberis said he answered the question about Rauner financing his campaign, by saying, "You need to ask Bruce Rauner."
Barberis said "rumors and speculation" about Rauner support were rampant months ago when the governor dove hunted at his property.
"We didn't much discuss politics," Barberis said of the occasion.
"If he plans on supporting my campaign, I'd certainly be happy to have it."
As of Feb. 29, Barberis had not yet created a finance committee for his appellate court campaign. He also did not organize one during his 2014 campaign for circuit judge, having self-funded with approximately $5,000.
He faces no opposition in the March 15 primary. In the November general election, he will face Williamson County Circuit Judge Brad Bleyer, a Democrat.
After Barberis received a rating of 23.60 in the 2014 ISBA advisory poll and the accompanying "not recommended" evaluation in his race against Madison County Associate Judge Clarence Harrison - a Democrat who was "recommended" - Barberis then, as now, shrugged off the poll as a "political statement."
In spite of spending a small fraction of what Harrison's campaign spent ($112,117), Barberis won the 2014 election by a margin of 54 to 46 percent.
Barberis said he believes the evaluation and polling process is a "tool the Democratic party uses to undermine respect for Republican candidates."
In the other vacancy created by the retirement of Justice James Wexstten, appointed Justice James "Randy" Moore is running unopposed in the primary as a Republican and Jefferson County Circuit Judge Jo Beth Weber is running unopposed as a Democrat.
The candidates who were evaluated by members of the ISBA Judicial Evaluations Committee, underwent a comprehensive review, according to the ISBA. It further states:
"This involves a detailed background investigation by members of the ISBA Judicial Evaluations Committee, followed by an in-person interview of the candidate. The Committee then decides whether to rate the candidate Qualified, Highly Qualified or Not Qualified for the judicial office being sought. Ratings based on evaluations are the opinion of the Illinois State Bar Association."
ISBA evaluation narratives
"Judge Brad Bleyer has served as the circuit judge in Williamson County since 2004. He presides primarily over the civil division, although he has served in all divisions of the circuit court. A graduate of Southern Illinois University, he came to the bench after an extensive career as a trial attorney that spanned approximately 20 years. Prior to his career as an attorney he was a teacher and coached youth sports. Judge Bleyer is a native of Williamson County and enjoys a reputation among lawyers as being an impartial and fair jurist who manages his docket efficiently.
"Justice James 'Randy' Moore was appointed to the Fifth District Appellate Court in December 2014 by the Illinois Supreme Court. Prior to his appointment, he served as a circuit court judge in the First Judicial Circuit, Williamson County, where he presided over a variety of cases. He has served as a circuit court judge since 2007. Before serving as a judge, he was a solo practitioner in Carterville, Williamson County. He also served as a city attorney for Carbondale, Illinois. He received his undergraduate and law degrees from Southern Illinois University.
"Judge Jo Beth Weber has served as the resident circuit judge in Mount Vernon, Jefferson County, since 2012. As a judge, she founded the Jefferson County drug and youth courts, and presides over a variety of cases. She also provides oversight of the courthouse and has led efforts to modernize the courtrooms. Before becoming a judge, she served as a Deputy in the Illinois State Appellate Defender's office, Associate General Counsel at Southern Illinois University, law clerk to four different appellate justices in the Fifth District, an attorney for the Illinois State's Attorneys Appellate Prosecutor, and briefly served as an associate in a general practice law firm. Judge Weber is a native of Mount Vernon, having received her undergraduate and law degrees from the University of Illinois. Judge Weber actively serves the Mount Vernon community in various roles."