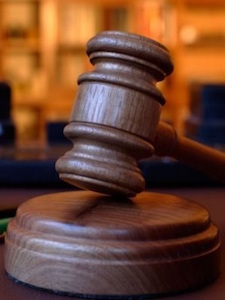 Illinois Supreme Court Justice Lloyd Karmeier has been ordered to produce by Dec. 1 a timeline he prepared for a Springfield radio interview following last year's contentious retention race.
U.S. Magistrate Stephen Williams entered the order Tuesday to resolve a discovery dispute in the Hale v. State Farm racketeering case.
Karmeier's interview with an NPR affiliate at the University of Illinois aired Feb. 1 and focused on his narrow victory in November 2014, as well as how he dealt with "a nasty, last-minute advertising blitz," according to a written report on the interview.
Included in the interview was a discussion of the high stakes Hale v. State Farm case.
Mark Hale of New York State filed the suit in 2011 on behalf of a class that won $1 billion in Williamson County in 1999, but lost it at the Illinois Supreme Court in 2005.
Hale plaintiffs claim State Farm secretly supported Karmeier in 2004, in order to overturn the Williamson County judgment.
Hale claims State Farm misled the Supreme Court about its role in the campaign, not only in 2005 but also when the class tried to reopen the case in 2011.
Plaintiffs seek to recover the judgment plus interest, with treble damages, bringing the total to about $8 billion.
In recent developments, sides had been at odds because Karmeier had not produced the timeline created for the interview during the course of fulfilling discovery requests.
Karmeier's attorneys indicated it had not been produced because it was created after November 2014, and after a subpoena had been issued. It was further argued that Karmeier did not have a duty to supplement responses, and that the timeline was not on Karmeier's individual computer. Rather, it was on computers owned by the Illinois Supreme Court which were not searched in response to the subpoena.
Williams, who is handling pre-trial discovery issues for District Judge David Herndon, resolved the matter without ordering a subpoena to the director of the Illinois Court systems. He found the requested material - an electronic copy of the timeline with all metadata still intact - to be within Karmeier's control.
"The Court directs Justice Karmeier to provide Plaintiffs with an electronic copy of the timeline with the metadata still intact, as well as any emails Justice Karmeier sent or received related to the timeline," Williams wrote.