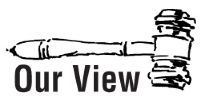 We're doing whatever we can to get to the bottom of whatever the issue is. Any community has to have confidence in public servants, including judges. That they're fair, honest, and act with integrity. If they're not, we owe them an appropriate response. -- St. Clair County Chief Justice John Baricevic

Judge John Baricevic, are you joking! In these times do you expect us in Illinois to have "confidence in public servants, including judges?" Confidence that they're "fair, honest, and act with integrity?"

That sounds more like a hallucination considering the recent conduct of some judges and other public servants.
You may have lots of cases on your docket, judge, but the only thing you're trying right now is our patience.
"Whatever the issue is?" Don't you know what the issue is? How'd you get to be a judge?
The issue is corruption, judge. Corruption. In St. Clair County. In Madison County. In Cook County. Corruption that's widespread in the godforsaken Land of Lincoln.
When he appeared for his hearing in federal court in East St. Louis on heroin-related charges, St. Clair County Circuit Judge Michael Cook sported a t-shirt proclaiming, "Bad is my middle name."
The big question is: How many other judges share that middle name?
How many other judges routinely break the law? How many indulge in illicit substances and activities? How many preside over cases in which a defendant stands accused of doing what they do themselves?
How many have hidden ties to the alleged criminals whose fates are in their hands? How many use their positions to rescue fellow travelers from a serving of justice? How far into evil are they willing to go?

You're right about one thing, Judge Baricevic. You and our "public servants" owe us "an appropriate response." Lots of resignations might be in order. Better yet, lots of prosecutions. Anything less would smell like a cover-up -- and an invitation to more corruption. We've had enough of that.