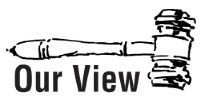 There once was a time when southern Illinois' appellate court system provided cover for some of the most outlandish claims in the nation (retailer class actions awarding millions in fees to lawyers and coupons to consumers over disputes involving pennies comes to mind), with no aspect of commerce immune from litigation.
In case a reminder is needed, abusive litigation is how Madison and St. Clair counties earned well-deserved reputations as judicial hellholes. Greedy lawyers with their bogus claims not only posed a threat to free enterprise everywhere, they shuttled the cases of people who seek real help from the courts, be it small claims, divorce, probate, etc. How long has your divorce case been pending?
But times have changed and the Fifth District Appellate Court is no longer packed with jurists whose sympathies lie with lawyers who have used Madison and St. Clair county courts to withdraw wheelbarrows of cash as if they were ATMs loaded with unlimited green backs - metaphorically speaking of course. And now forum shopping may be on the chopping block too.
Case in point, a panel of appellate judges just directed St. Clair County Chief Judge Andrew Gleeson to transfer a shopper's suit against Schnuck Markets from St. Clair County to Monroe County. Why? Because the Schnucks outlet being sued is located in Monroe County and the customer suing it lives there, too.
Under those circumstances, why did the plaintiff not file suit in Monroe County? Could it possibly be that she expected to get a more favorable reception in St. Clair County from the likes of Judge Gleeson?
Why did Gleeson not suggest a more appropriate venue to the plaintiff – i.e., Monroe, not St. Clair?
"St. Clair County residents should not be burdened with jury duty when the action neither arose there nor has any relation to that county," the appellate court ruled, and it's hard to argue with their reasoning. It'd be like having to cut your neighbor's grass or do their laundry for them. Why?
We'll tell you why: St. Clair County processed 35 times as many civil actions as Monroe County in 2017, a statistic provided by the appellate court.
In other words, scammers have come to St. Clair County knowing they are welcome..
But thanks to level heads in Mount Vernon, plaintiff and Monroe County resident Angela Shaw, and more particularly her lawyer, have been stopped from indulging in forum shopping. We wish the plaintiff well in seeking justice where it should be sought.