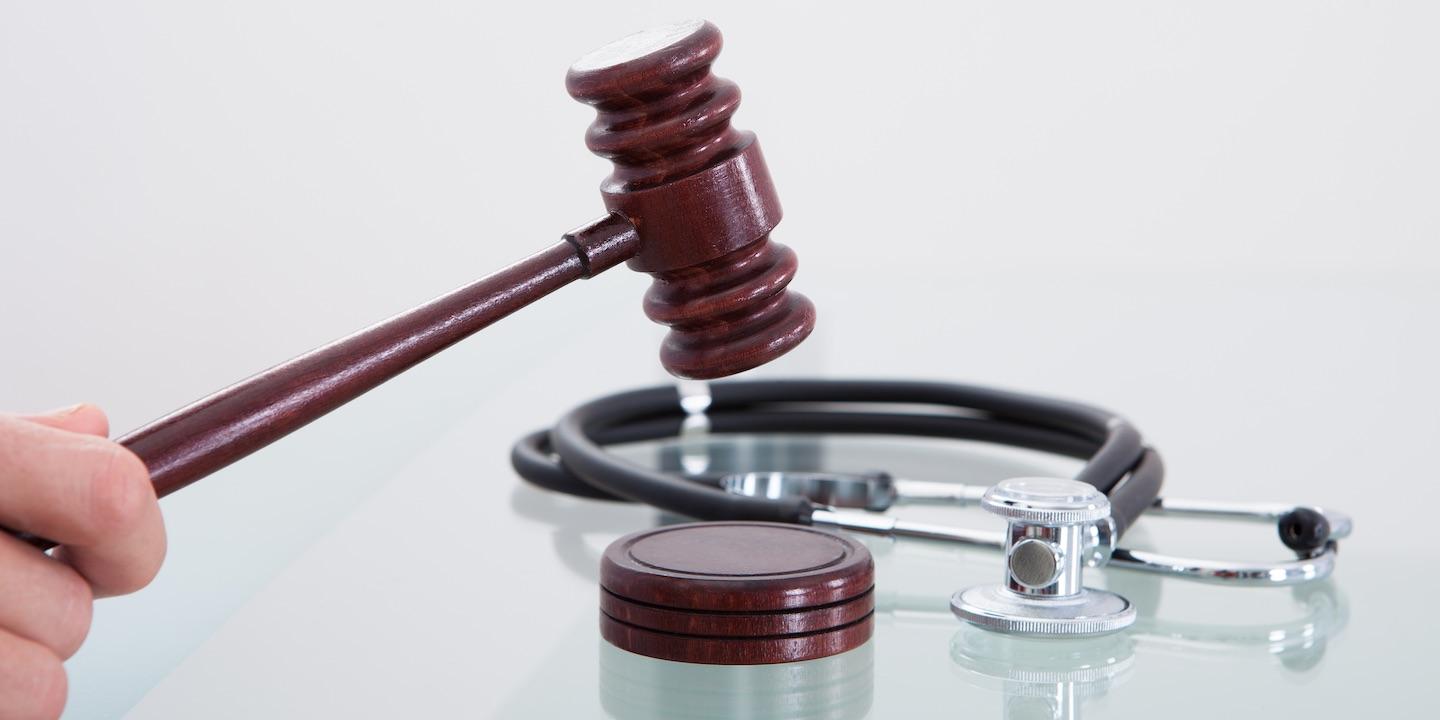 A physician denies that medical negligence caused a patient to be deprived of oxygen to her brain while undergoing a routine colonoscopy.
Defendant Hyman Thompson, MD, answered plaintiff Trevett Goodwin's amended complaint on May 10 through attorney Kenneth Burke of Brown & James PC in Belleville.
He denied that "as a result of the defendant's negligent acts and omissions, before, during and after said colonoscopy, as herein alleged, Jacqueline Williams was caused to sustain a long period of oxygen deprivation to her brain."

Burke
Goodwin filed a first amended complaint on April 29 after St. Clair County Circuit Judge Heinz Rudolf granted a motion to dismiss the suit on April 16.
Defendants Aaron Greenspan, MD, and Metro East Gastroenterology Ltd. filed the motion to dismiss and strike the family expense statute claim on March 15 through attorney Untress Quinn of Sandberg Phoenix & von Gontard PC in O'Fallon.
The defendants argued that count I is listed as a wrongful death claim against Greenspan, but includes allegations against Greenspan, defendants Hyman Thompson, MD, Metro East Gastroenterology, and Southern Illinois Healthcare Foundation.
"Any attempt to answer plaintiff's complaint would be futile," the motion stated. "As a consequence, the complaint should be dismissed and plaintiff made to separate each defendant for each separate cause of action in accordance with Illinois law."
Further, the daughter of decedent Jacqueline Williams brings an action pursuant to the Family Expense Act.
"Additionally, plaintiff cannot bring an action pursuant to the Family Expense Statute because under this statute, liability for the medical or funeral expenses of another is the basis of the claim," the motion stated. "The statute only applies to a spouse or parent because they have the obligation to pay for medical and funeral expenses incurred by the child or the other spouse."
"Plaintiff can only bring an independent action for medical and funeral expenses, not a cause of action under the Family Expense Statute," it continued.
Goodwin, as administrator of the estate of Jacqueline Williams, deceased, filed the six-count amended complaint through attorney Grey Chatham Jr. of Chatham & Baricevic in Belleville. Southern Illinois Health Care Foundation Inc. is also named a defendant.
The amended complaint includes allegations pursuant to the Illinois Wrongful Death Act and the Illinois Survival Act.
According to the complaint, Williams was under the care of Thompson in 2017, who was the decedent's family physician. During that time, Williams was a patient at Metro East Gastroenterology Ltd. in Belleville for the purpose of an elective and routine colonoscopy, which was performed on Sept. 18, 2017 by Greenspan. Greenspan had been recommended by Thompson, the suit states.
However, Goodwin alleges the defendants failed to obtain appropriate preoperative clearance, failed to check the decedent's serum potassium level preoperatively and failed to properly perform the procedure.
As a result, the suit states that before, during or after the procedure, Williams sustained a long period of oxygen deprivation to her brain, resulting in her death on Oct. 14, 2017.
Goodwin claims the defendants failed to provide Williams a standard of care to possess and apply the skill and care of reasonably well qualified physicians.
Williams' next of kin claim they have sustained economic and noneconomic damage due to the depravation of their means of support and the depravation of the decedent's society, companionship, guidance, advice, love and affection.
St. Clair County Circuit Court case number 19-L-84