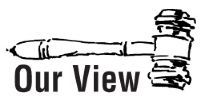 Though easily dismissed as a partisan fishing expedition, the clamor for President Donald Trump to release his tax returns has a certain logic. After all, it could be useful to know the financial interests of our chief executive – and of every federal, state, and local official as well.
In fact, the debts and investments of this latter group are likely to be more revealing. As a current meme puts it, Trump's a billionaire who became a politician. It's the politicians who become wealthy while in office that are worrisome.
Politicians and judges have debts and investments just like everyone else, of course, but it's reasonable for citizens to wonder what those commitments are – and if they affect the decision-making of the officeholders in the exercise of their public duties.
Financial disclosure laws for those seeking or holding office ensure some measure of transparency, which is enhanced by media reporting on the data. The Madison-St. Clair Record, for instance, recently publicized – here and here – economic statements provided by local judges.
Associate judges are required to file statements of economic interest with the Illinois Supreme Court. Although they must list their investments, they are not required to reveal the values of them, and none did – except for Associate Judge Janet Hormberg, who provided precise figures for all of her holdings.
The rest merely listed their rental properties, retirement accounts, stocks, etc., plus mortgages and other debts. Six of the 12 associate judges reported student loan obligations, some as high as $250,000.
Elected circuit judges also filed economic statements listing their holdings, but they, too, are not required to provide dollar amounts, and none did. Some have extensive investments in the stock market, whatever their value.
Chief Judge Andrew Gleeson, for instance, owns shares of Procter & Gamble, Walmart, Walgreens, Nokia, IBM, McDonald's, Motorola, Anheuser-Busch, Pepsi, Sprint, Regions Bank, Charter Communications, Dell, and Gleeson Asphalt.
Maybe all the judges should be as forthcoming as Hormberg, or maybe the state Supreme Court should require that.