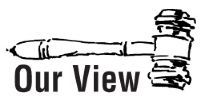 James Clayborne (D-East St. Louis) has served as an Illinois state senator since 1995. He has served as majority leader since 2009. This year, he decided not to run for re-election and return to private law practice instead.
In the spirit of thanksgiving, let us now give thanks to Sen. Clayborne in recognition of his soon-to-end 23-year career as a state senator.
Are we showing appreciation for what Clayborne accomplished over the last two-plus decades for his constituents and the citizens of Illinois, or celebrating the approach of his long-awaited departure?
It could be either. That's the funny thing about gratitude. It can be shown for good things or for bad. When shown for good, it reinforces healthful standards and encourages others to appreciate them. When shown for bad, it confers unmerited credit and devalues recognition of the good.
What were the secrets of success of James Clayborne? Principally, they consisted of a willingness to go along with the agenda of the Democrat Party – and an ability to ensure that some of the revenues extracted from taxpayers statewide were appropriated to some projects of questionable value in East St. Louis.
In remarks supporting a formal resolution thanking Clayborne for his service, Sen. Jacqueline Y. Collins (D-Chicago) got a rise out of her peers when she commented that she and Clayborne "never had an opportunity to serve on many committees together because [he] had a tendency to gravitate toward the more lucrative committees."
Ha ha. That's a good one. But is this tendency "to gravitate toward the more lucrative committees" a praiseworthy quality? What exactly are "lucrative committees"? For whom are they "lucrative" – the senators or their constituents? And why should they be "lucrative" to either?