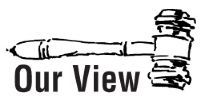 You have to spell things out for some people. It doesn't matter whether they really are dumb or just pretending not to understand what would be perfectly clear to any person of average intelligence. You have to play along with them, coddle them, and keep "clarifying" the plain sense of things until there's not a single bit of wiggle room left.
If you don't do that, they'll keep looking for loopholes, coyly insisting that their intentions are pure and they're not trying to be unreasonable or self-serving. And other would-be sneaks will be watching to see if they get away with it, so they can play the same trick.
Call it the Baricevic Sham, the Haida Hoax, or LeChien Charade.
It's only fitting to name it after one of the three local judges (one posthumously) who executed a most audacious application of this ploy two years ago when they finessed the plain meaning of state law and masqueraded as first-time seekers of positions they were already occupying – rather than face the more difficult challenge of standing for retention as incumbents.
Never mind that the state constitution allows first-time candidates for judgeships to win by a simple majority but also requires incumbents to amass at least 60 percent of the vote in order to be retained.
When St. Clair County Circuit Judges John Baricevic, Robert LeChien, and Robert Haida apparently feared a 60 percent retention vote, they decided to game the system by resigning their positions and pretending to be first-time candidates. Various public officials who should have put an end to the obvious farce abdicated their responsibility and let it continue.
Which is why State Rep. Charlie Meier is trying, for the second time, to get our legislature to spell out something that was never confusing in the first place: that incumbent judges must stand for retention and may not circumvent that requirement by resigning before an election and running again.
That was the clear intent of our constitution, which we should never have had to clarify, but some people have to have things spelled out for them.