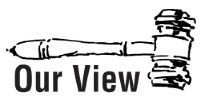 What if you could object to your opponent's counsel on any pretext? It would be simple enough to show, for instance, that said counsel was biased in his own client's favor.
Maybe the opposing party has secured the services of the wisest, most experienced attorney in the particular matter being contested and thus has a decided advantage in securing a judgment favorable to his own interests. What do you do?
You protest, right? "No fair!" you argue. "I don't like that attorney. You'll have to get someone else."
As ridiculous as it sounds, this is pretty much what Beth Gori of Gori Julian & Associates in Edwardsville, Andrew O'Brien of the O'Brien Law Firm in St. Louis, and other members of the Asbestos Claimants Committee (ACC) did last month when they filed an omnibus motion asking the court to reconsider its approval of King & Spalding of Atlanta and Schachter Harris of Irving, Texas as the special counsel for Bestwall in a Chapter 11 bankruptcy proceeding.
Because Bestwall is a unit of Georgia Pacific established as a separate entity during a corporate restructuring last year to allow it to file for bankruptcy without jeopardizing GP assets, and because King & Spalding has represented Old Georgia Pacific for more than 13 years, the ACC argues that members of the firm would be significant witnesses at any estimation trial based on their "extensive knowledge concerning Old GP's businesses, former asbestos-containing products, history related to asbestos litigation, scientific research relating to issues arising in the asbestos cases filed against Old GP, defenses to asbestos claims, and both Old GP's and the Debtor's management of the defense and settlement of asbestos claims."
Bestwall opposes the motion to reconsider, arguing that "denying the Debtor access to representation of its choice . . . requires compelling justification. Here, the ACC has offered no valid factual or legal justification for that relief, much less a compelling one."
Gori, O'Brien, et al. may just have to do their best against King & Spalding.