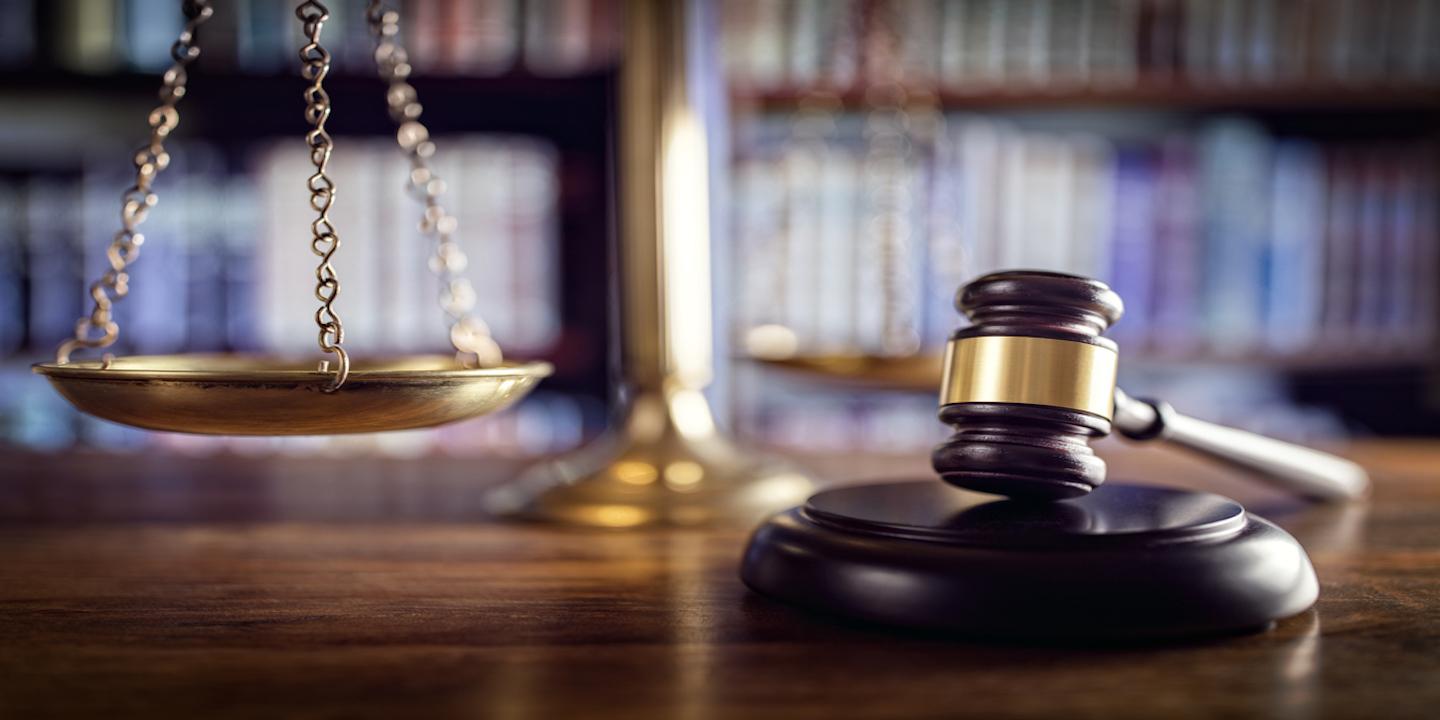 ST. LOUIS – Former Madison County chief judge Ann Callis, now in private practice at the Goldenberg firm in Edwardsville, prompted laughter among members of a national panel of judges by asking them to transfer all opioid-related lawsuits to a judge who has never handled national litigation.
At a hearing of the U.S. Judicial Panel on Multi District Litigation on Nov. 30, Callis recommended U.S. District Judge Staci Yandle.
Panel chair Sarah Vance, district judge in Eastern Louisiana, said, "Has she ever had an MDL?"
Callis said, "No ma'am, she does not."
Vance said, "And you want to give her this one?"
Laughter rippled through the panel and an audience of about 140.
Callis said, "Yes ma'am."
Panel member Charles Breyer, district judge in Northern California said, "It will be the last one."
The crowd laughed.
Callis and her firm already represent 15 local governments in Illinois, including counties of St. Clair, Bond, Jersey and the city of Granite City. And, last month, she made an appeal to Madison County's judiciary committee seeking to represent her home county as well.
"If I may, just north of St. Clair County is Madison County, Illinois," Callis told the panel. "There, I was a judge for 18 years.
"I was a felony trial judge for seven years and chief judge for seven years. Therefore, I know of the utter devastation of this opioid epidemic on our Southern Illinois communities."
Callis said that in St. Clair County in 2014, there were 34 pills of hydrocodone and oxycodone prescribed per resident.
"Judge Staci Yandle is eminently qualified to handle this litigation," Callis said,
"She was an accomplished lawyer handling and trying many complex litigation cases and she continues to do so to this day. She sat by designation on the Seventh Circuit of Appeals and I believe -"
Vance said, "How does that qualify her for handling this? No offense."
The crowd laughed.
Callis said, "She certainly has the intellect, the legal ability, really the temperament to handle the herculean task of this litigation."
Vance thanked her and called the next lawyer.
In all, 20 lawyers addressed the panel.
Roland Tellis of Baron and Budd, representing Cincinnati, spoke first.
Tellis said there were 155 cases in 25 districts.
He said there was discussion that there were distinct sets of claims against manufacturers and distributors.
"That perception stems from an erroneous understanding of the claims," Tellis said,
"The duty to report and stop suspicious transactions here is at the heart of all of the claims.
"Manufacturers and distributors together have that duty."
Vance asked if they carry out their duties in different ways.
Tellis said the Drug Enforcement Administration sets quotas on how many pills it will allow each year.
"There was a concerted effort on the part of both of them to ensure that those quotas remain artificially high," Tellis said.
"If a distributor reported a suspicious transaction, it would hurt the manufacturers and vice versa."
Vance said, "You've got governmental entities, you've got personal injury plaintiffs, you've got hospitals, you've got union trust funds, you've got third party payers."
She asked Tellis what to do with them, and he said governmental entities are talking about increased cost to deal with addiction.
"Personal injury plaintiffs don't have those costs," Tellis said.
Panel member Catherine Perry, chief district judge for Eastern Missouri, said there was at least one wrongful death case.
"There's got to be more than that if 800 people a day are dying," Perry said.
Tellis said, "As long as the claim arises under this duty that you should have reported and stopped suspicious transactions, they ought to be in."
Vance said, "The third party payers and the personal injury plaintiffs don't have to deal with all of the hurdles of whether or not you can sue for these kind of damages that the political subdivisions do under the laws of every jurisdiction."
For Tacoma, Derek Loeser recommended the Western District of Washington.
"The MDL is not going to solve all problems but if it speeds things up it is absolutely worth doing," Loeser said.
Kristal Baich, representing 48 Wisconsin counties, recommended Judge Lynn Adelman of the state's Eastern District.
She said he has effectively handled multiple MDLs.
Shelly Sanford of Watts Guerra, representing two Texas counties that have filed and others that haven't filed, recommended Breyer at the Northern District of California.
Sanford also recommended Judge Robert Pitman in Austin.
Eric Young, representing health and welfare funds of two Pennsylvania unions, said he wouldn't have a problem with a separate MDL for third party payers.
Patrick Barthle, suing distributors but not manufacturers for eight cities, towns, and counties in West Virginia, opposed consolidation.
He said each claim is based on specific shipments to specific locations in and around the area, and said it wasn't a question of a distributor sending too many opioids to the United States, but a question of a specific shipment to the town of Kermit.
Perry said, "They didn't target your jurisdiction under your theory of the case, did they?"
Barthle said, "I don't know that they specifically targeted it."
Perry said, "So you're going to have some executive saying yeah, we sat there and said I'm going to go after Kermit, Nebraska?"
Barthle said, "I think we would have to know, was there discussion about this area, what did the employees of these distributors know about those areas, what was going on in those pain clinics."
For Chicago, Linda Singer argued that consolidation would delay an opioid suit the city filed against manufacturers only in 2014.
Vance asked her the difference between manufacturers and distributors.
Singer said the complaint alleged that five manufacturers engaged in deceptive promotion, misrepresented the risk of addiction, and overrepresented the ability of doctors to manage the risk.
She said consolidation would effectively stay the case for 18 months. She also said people who have become addicted would love to go back to 2014.
"In the meantime, city of Chicago's case gets stopped," Singer said. "Defendants continue to engage in the same practices."
Jeffrey Simon, suing manufacturers and distributors for eight Texas counties, opposed consolidation.
"We can coordinate with the defendants on our own in Texas," Simon said.
Chris Huck, suing Purdue Pharma for Everett, Wash., opposed consolidation.
He said the panel has been hesitant to do industry wide centralization and that,
"This is multiple industry wide centralization," Huck said. "Every other counsel in this room hasn't been able to point the panel to any case that has ever done that."
"These people are dying every day. The conduct is continuing."
He said statistics show that attempting an MDL slows a case down.
Hunter Shkolnik opposed consolidation on behalf of three Ohio cities, saying they seek to move forward in terms of injunctive relief.
He said municipalities have a right to information under state programs so they can take immediate action.
"I'm a proponent of MDL's, but we also know that some MDL's take too long to help communities," Shkolnik said.
Breyer said that was up to the judge, and Shkolnik said he was right.
He suggested that if the panel consolidated cases, it should assign District Judge Dan Polster of Northern Ohio.
Lee Javins, private counsel to West Virginia attorney general Patrick Morrissey, opposed consolidation of a suit Morrissey filed in Boone County.
Defendants have removed the suit to district court in Charleston, where Javins has asked District Judge David Faber to remand it to Boone County.
Javins told the panel, "It's my hope that we are temporarily here on removal."
He said his case specifically disavowed federal jurisdiction.
"We know how to litigate these cases," Javins said. "Twelve of them have litigated to resolution."
"We are as far along as the city of Chicago."
Panel member David Proctor, district judge in Northern Alabama, asked if Faber deferred ruling until the panel decided or if it was just hanging in the balance.
Javins said, "I guess I'd have to say it's hanging in the balance."
Vance said, "We wouldn't be offended if he ruled on it."
Javins said, "I advised the court that he could wrap this up in a one paragraph order, and I'm a little concerned that he hasn't done that yet."
CVS counsel Richard Schirtzer opposed consolidation for distributors CVS, Wal-Mart, Walgreens, Kroger, SAG, and Rite Aid.
He said the difference between manufacturers and distributors would raise very different issues in discovery.
Breyer said he understood things would go on in the MDL that don't concern distributors, but asked if good things would go on that do concern them.
Schirtzer said, "At what point does what doesn't concern us swamp what does concern us?"
He said CVS, Rite-Aid and others never distributed oxy.
"We are going to be dragged into a series of 154 cases that are going to be about oxy for clients who have never distributed oxy," Schirtzer said.
Robert Ridge, counsel for Top RX, opposed consolidation for small distributors.
"Our clients in most cases are contributing a fraction of the opioids," Ridge said.
He said suspicious order issues would be different for smaller clients than for larger clients.
Pfizer counsel Loren Brown adopted a unique stance as an interested party with no suits pending against his client.
He said Pfizer was named in five government cases and in all five Pfizer secured voluntary dismissals.
Vance asked what Pfizer did, and Brown said it shared very basic marketing and sales information.
"If we don't get a carve out in the order, we believe there is a substantial chance that we are going to end up getting named in hundreds of cases," Brown said.
Proctor said, "We can't send out a general order that no plaintiff's counsel can sue you."
Brown said, "We are not looking for any kind of immunity. It's just that the advantages of an MDL, which I almost always argue for, are far outweighed by the disadvantages here.
"Even the best MDL judge and the best tracking system would not be as efficient as we have been up until now getting ourselves out of these cases."
Proctor said nothing precluded him from employing the same strategy in an MDL.
For big distributors Amerisource Bergen, Cardinal Health, and McKesson, Enu Mainigi supported centralization.
Vance said, "What's the scope? Who's in and who's out?"
Mainigi said, "I think you can have separate tracks."
Vance asked if manufacturers, distributors, and closed distributors should be in, and Mainigi said yes to all three.
Vance asked if prescribers, hospitals, and third party payers should be in, and Mainigi said those were harder question for the transferee judge.
Mainigi said threshold issues might completely turn the litigation. She said they relate to whether a city or county can even bring this litigation, and that there are causation issues of great significance.
"How does a distributor lead to these opioid deaths?" she said.
Panel member Marjorie Rendell, judge of the Third Circuit appellate court, said, "Doesn't that argue for non centralization so that these things can be litigated where God flung them and let those issues be litigated in separate courts?"
Mainigi said, "We can't have 150 different rulings on that issue."
She said the one judge in the country who has been thinking about these issues for the better part of the year is Faber.
"I imagine you don't get many defendants like us who show up asking for West Virginia as the place to go to be transferred," she said.
Rendell said Faber hasn't had an MDL.
For manufacturers, Purdue Pharma counsel Mark Cheffo recommended consolidation in Northern Illinois or Southern New York.
He suggested Judge Jorge Alonso, who presides over Chicago's case.