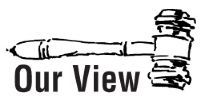 Here's the thing about inappropriate behavior: What is outrageous will seem less so when compared to something more outrageous.
The behavior recognized as startling only yesterday may not seem so bad today when we're confronted by the uber-transgressive.
Whether it's teenagers or public servants, we taxpayers must be careful not to let them undermine standards we set and manipulate us into redrawing our line in the sand.
Some politicians seem willing to see what they can get away with, and anything they get away with they'll keep doing, stretching the boundaries again and again, making further forays into wrong-minded territory.
They're insidious.
Certain schemers in Cook County have gone too far this time.
They wanted to institute a new sales tax on sweetened beverages, so as to get even more of our money and spend it on anything other than what their constituents find necessary or desirable. Some taxpayers objected, as is our right, and secured a temporary restraining order delaying the implementation of the tax pending affirmation of its legitimacy.
But that made the schemers angry, and they decided to throw a tantrum..
Cook County is now suing the half dozen supermarkets and the retail association that sought the restraining order, claiming that they're liable for the $17 million in revenue the County estimates that it lost during the single month the implementation of the sugary sin tax was delayed.
Cook County is singling out one segment of the taxpayers who helps fund its operations and pay the salaries of the government employees, and suing them because they had the nerve to question the legitimacy of a tax the County imposed.
This is beyond outrageous. Everyone responsible should be voted out of office at the first opportunity.