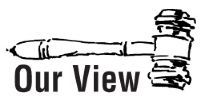 For years now, attorneys Stephen Tillery, Robert Clifford, and associates have been trying, unsuccessfully, to challenge the integrity of State Supreme Court Justice Lloyd Karmeier. Now, thanks to U.S. District Judge David Herndon, they may get another chance.
Clifford and Tillery have a thing about Karmeier, because they hold him responsible for depriving them of gigantic class action settlements. Years ago, Karmeier participated in decisions overturning Clifford's $1 billion judgment against State Farm and Tillery's $10 billion judgment against Philip Morris.
Having that much money slip through one's hands could unhinge anybody, but it has to be especially devastating to attorneys with outsized egos.
Clifford and Tillery took big hits to their pocketbooks and their pride and seem never to have gotten over it. They just can't let go.
They've done everything they could think of to get the original judgments reinstated. Having failed at that, they waged a legal and media attack against Karmeier instead.
In 2012, they filed a racketeering suit against State Farm, claiming that the insurance company secretly funneled money to Karmeier's 2004 campaign for the supreme court in hopes of having the $1 billion judgment against it overturned.
Two years ago, Clifford and Tillery helped finance a scurrilous and unsuccessful television ad campaign to prevent Karmeier's retention in the 2014 election.
Clifford also filed a federal court brief accusing the State Bar Association's judicial evaluation committee of being biased in favor of Karmeier when he first ran for the supreme court seat in 2004.
Now Judge Herndon has certified the $9 billion class action against State Farm, breathing new life into the Clifford-Tillery struggle against Karmeier.
As Clifford and Tillery continue to accuse Justice Karmeier of prejudice and wrongful conduct, Karmeier was just chosen by his peers on the court to serve as its new chief justice.
Quite a contrast.