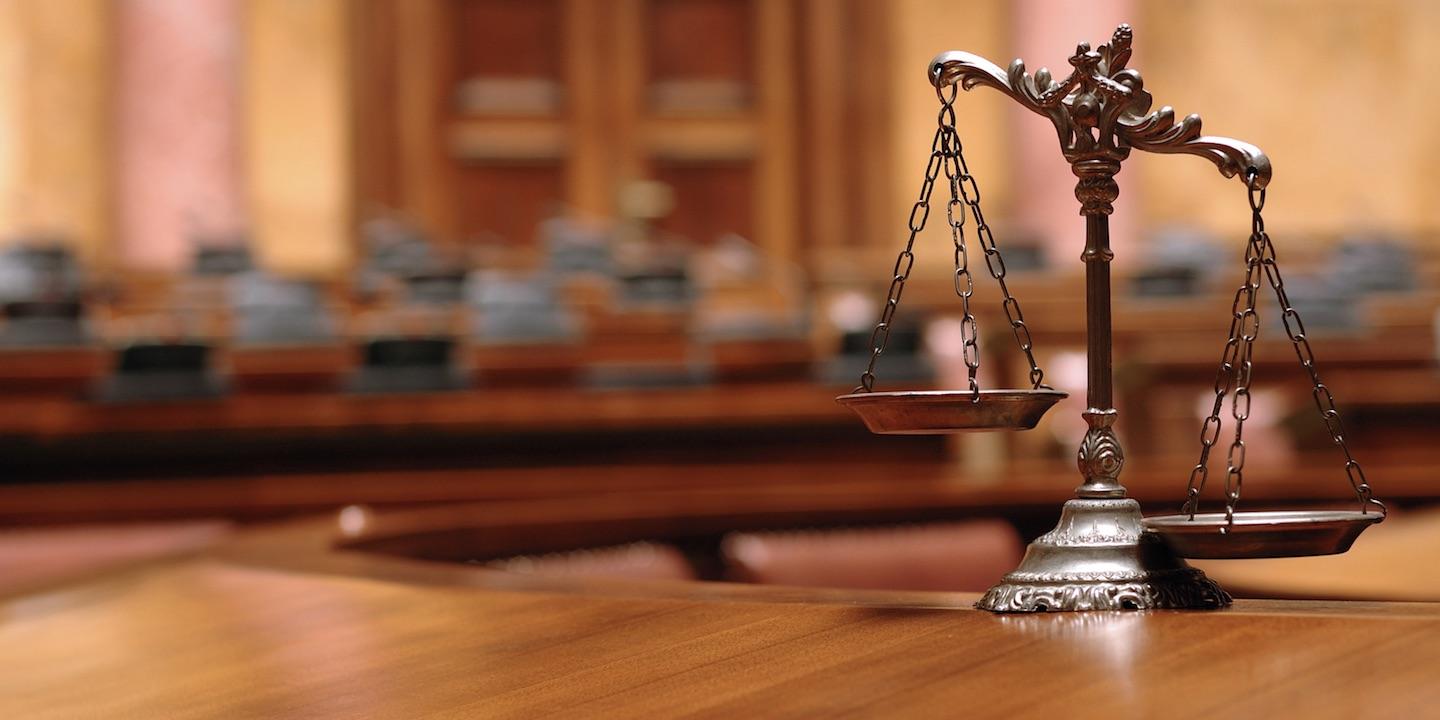 MOUNT VERNON – Fifth District appellate judges ruled on July 13 that St. County Chief Judge John Baricevic whisked potential jurors through the principles of a fair trial, prejudicing a domestic battery suspect.
The appellate court granted a new trial to Andre Jackson, who faced 60 days in prison and 18 months on probation.
Presiding Justice Judy Cates wrote that Baricevic's errors "threatened to tip the scales of justice."
She found it "difficult to conclude that these errors did not impact the verdict of the jury."
Justices Melissa Chapman and Randy Moore concurred.
The Justices also criticized prosecutor James Fuld, finding he presented deficient testimony from alleged victim Sheena Berry and three other witnesses.
Berry married Jackson after his arrest but before his trial.
They clashed on Jan. 5, 2013, when Berry found a picture of another woman on Jackson's telephone.
After the clash, Berry left their home to go to her job at St. Elizabeth's Hospital.
On the way she called supervisor Dawn Peach and described the incident.
Peach told her to go to the emergency room for evaluation.
Emergency room nurse Angela Capps treated Berry, and police officer Nathan Weinel interviewed her.
State's attorney Brendan Kelly charged Jackson with two counts of aggravated domestic battery, one for his actions on their first floor and one for his actions on the second floor.
Kelly also charged him with three counts of domestic battery.
Baricevic brought the case to trial on March 11, 2014.
He said to the panel of potential jurors, "Do you understand and accept that Mr. Jackson, who sits here accused of a crime, is presumed innocent of the charge against him, that the presumption of innocence stays with Mr. Jackson throughout the trial and is not overcome unless from all the evidence you believe that the state has proved Mr. Jackson guilty beyond a reasonable doubt?"
"Anybody disagree with that?" he said. No one did.
"Do you understand this means further that the state of Illinois, represented by Mr. Fuld, has the burden of proving Mr. Jackson's guilt beyond a reasonable doubt?" Baricevic said.
"Mr. Jackson does not have to prove his innocence. Mr. Jackson does not have to present any evidence or testify unless he chooses to do so, and if he does not, you are not to hold that against him."
"Anybody disagree with that?" he said. No one did.
After selection of a jury, but outside of its presence, defense counsel James Ellis asked Baricevic if he reviewed the four principles of a fair trial.
Baricevic said, "I think I did."
"I mean, you can see what the appellate court says," he said. "I think I complied."
When Berry took the stand, she said she dropped a petition for a protective order against Jackson and wanted the charges against him dropped.
Nurse Capps testified about injuries she observed, but admitted she didn't know how they occurred or whether Berry exaggerated.
Officer Weinel testified that he didn't observe any redness around Berry's neck, and that he had no firsthand knowledge of what happened.
Supervisor Peach testified that she observed redness on Berry's neck but that it had faded by the time Weinel arrived.
Jackson, the sole witness for the defense, testified that he stuck out his left arm and made contact with Berry's neck as she charged him and swung her fist.
He said he never choked her and didn't hear her gasp for air. He also said that she hit him in his face and on his shoulder and arms.
Jurors found him guilty of aggravated battery on the first floor, not guilty on the charge from the second floor, and not guilty on the three lesser charges.
On appeal, Jackson successfully argued that Rule 431(b) required Baricevic to ask each juror if they understood and accepted the four principles.
Cates wrote, "Under Rule 431(b), the trial court may question potential jurors individually, or as a group, but it must allow each prospective juror to respond when asked whether he or she understands and accepts the principles stated in the rule."
The rule is intended to end the practice of making a broad statement followed by a general question concerning a juror's willingness to follow the law, she wrote.
She also wrote that failure to ask whether jurors understand the principles constitutes error alone.
She wrote that Baricevic collapsed the second principle into the first and collapsed the third and fourth principles into the second.
Cates rejected the state's claim that jurors would have convicted Jackson anyway, writing that she was far from convinced that the evidence was overwhelming.
She wrote that Capps, Weinel and Peach did not have firsthand knowledge of what happened.
"The quality of their testimony is weak and inconsistent," she wrote.
She wrote that Berry's testimony offered little clarity, and her injuries were consistent with Jackson's version of what occurred.