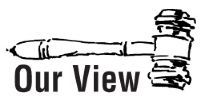 Three years ago, at the end of his alleged investigation into rampant corruption in St. Clair County, Chief Circuit Judge John Baricevic confessed that he was unable to find any evidence that James Fogarty misused his former position as a probation officer while allegedly selling cocaine or that Fogarty and Circuit Judges Michael Cook (convicted on heroin charges) and Joe Christ (dead from a drug overdose while in Cook's company) had "used their positions to enhance their drug use."
Was there no evidence, or could Baricevic just not find it? Was he really the right person to be conducting such an investigation?
Needless to say, the clean bill of health that Baricevic issued for the court system in which these low-lifes had operated alongside of him was met with skepticism.
Then came the Big Bamboozle, when Baricevic and fellow Circuit Judges Robert LeChien and Robert Haida announced that they would resign their judgeships in order to run for their same seats again as first-timers, thus circumventing our state's constitutional requirement of a 60-percent retention vote for incumbents.
If St. Clair County residents had not had doubts already about Baricevic's integrity, this sneaky ploy might have alerted them to the possible presence of ethical deficiencies.
Now the rules-are-for-thee-and-not-for-me attitude seems to be manifesting itself in the next generation of Baricevics.
It turns out that Baricevic's son also wants to be a congressman, and that attorneys like Tom Keefe Jr. who regularly appear in Daddy's court are eager to help Sonny fulfill his dream. Heck, even Tom's secretaries, legal assistants, and receptionist want to help, too, each contributing the legal maximum of $2,700.
At least it seemed that way, until it was discovered that Tom's firm had reimbursed the extravagant underlings for their contributions, thus violating election standards prohibiting donations in another's name.
Who can complain? If rules don't apply to a certain presidential candidate, how can they apply to a certain county judge and his political wannabe son?