SPRINGFIELD – Christopher Geiler corrected a deficiency in the Troy police department and impressed the Illinois Supreme Court with his challenge to a speeding ticket, but his ticket still stands.
On July 8, the Justices reversed lower court decisions that would have torn up his ticket and more than 25 tickets of other drivers.
The Justices excused Troy police for not knowing they needed to follow Rule 552, requiring delivery of tickets to Madison County courthouse in 48 hours.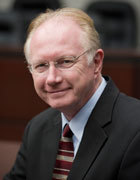 Kilbride
Justice James Kilbride wrote that Geiler "apparently alerted the Troy police department to the existence of the rule."
"At oral argument, the state assured this court that the Troy police department is now in strict compliance with Rule 552," Kilbride wrote.
"We note that defendant, appearing pro se, performed well in presenting his argument, both in his brief to this court and in his oral argument.
"His argument nevertheless must be rejected given this court's established precedent holding that a charge may not be dismissed based on the violation of a directory rule absent a showing of prejudice to the defendant from the violation."
Police stopped Geiler on May 5, 2014, and charged him with doing 80 in a 65 zone.
The ticket reached the courthouse on May 9.
Geiler moved to dismiss it, and brought a stack of tardy tickets to a hearing before associate judge Elizabeth Levy.
Troy detective Todd Hays testified that a supervisor delivered tickets to the courthouse on Mondays and Fridays.
He said it wasn't physically possible to transport them every day.
Levy dismissed the ticket, finding "clear and consistent violation of Rule 552 and not an inadvertent action."
Fifth District appellate judges in Mount Vernon affirmed the decision.
The Supreme Court found they took the rule too seriously.
"Rule 552 simply provides that the arresting officer shall complete the form or ticket and transmit it to the circuit court clerk within 48 hours after the arrest," Kilbride wrote.
"The rule does not specify any consequence for a violation of the timing requirement or contain any negative language prohibiting prosecution or further action in the case of noncompliance."
He wrote that the facts didn't involve deliberate or ongoing violations.
State's attorney Thomas Gibbons represented the state, along with appellate prosecutors Patrick Delfino, Stephen Norris and Patrick Daly.