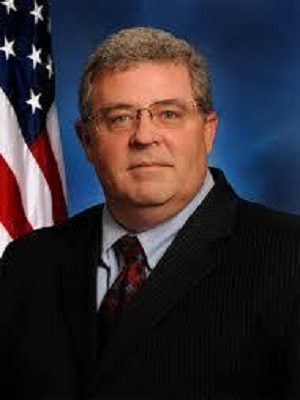 None | None
Following months of intense scrutiny and public outcry over his reluctance to answer questions about his suspicious campaign reporting, Illinois Auditor General Frank Mautino invoked his Fifth Amendment right to remain silent to avoid incriminating himself amid an ongoing federal investigation.
On June 1, Mautino's attorney, Tony Jacob, asked the State Board of Elections to give Mautino more time to respond to the board's questions about his campaign spending while the federal investigation continues.
Last month, the board gave Mautino up to July 1 to amend his campaign reports.
The Edgar County Watchdogs, a self-appointed government watchdog group that has called out mayors, board chairmen and state's attorneys since 2010, says Mautino's request should not only be denied, but the Auditor General should step down altogether.
"He should resign immediately as the people of this state will never trust him as our Auditor General knowing he chose to stay silent to avoid self-incrimination on civil matters that could potentially lead to criminal charges," the watchdog group wrote on its website. "It was revealed several weeks ago that he is cooperating with the U.S. Attorney's criminal investigation. If he does not plead the Fifth with the U.S. Attorney that may imply he is providing information that may point to other political figures wrongdoing."
A cloud of suspicion has loomed over the former state Representative since January, when Mautino's disclosure reports showed extravagant spending — over $200,000 — on gas and vehicle repairs over the span of 11 years to Happy's Super Service in Spring Valley, which is Mautino's hometown.
Edgar County Watchdogs quantified the amount to be $213,338.31. Also raising eyebrows were over $200,000 in irregular payments to Spring Valley City Bank, prompting the State Board of Elections to launch an investigation into the matter.
According to WebTimes, the board's general counsel is recommending that the board grant Mautino's request, which does not sit well with the watchdog group.
"May I suggest Gov. Rauner take any and all possible steps to replace any State Board of Elections Board members that votes to postpone the case and also push for a replacement legal counsel for that board," the group wrote. "The reason is simple. If the U.S. Attorney wanted those hearings delayed they would have informed them of such. In addition, for the legal counsel to claim there is no urgency is a slap in the face to every citizen in this state."
The Auditor General is tasked with auditing the use of the state's public funds and reports findings and recommendations to the General Assembly and governor.
The state conducted a nationwide search to replace former Auditor General William Holland, who retired last December after 23 years of service. During his tenure, Holland earned a reputation for serving the state in a nonpartisan and precise manner.
Mautino had served as State Representative for 24 years, including 15 years as a co-chairman of the Legislative Audit Commission, when a legislative panel recommended him to oversee how tax dollars are spent as Auditor General. The Legislative Audit Committee voted 11-1in favor of Mautino, the former co-chair of the panel.
Legislators in both parties supported Mautino — the Senate approved his nomination by a 55-0 vote, and the House, 102-10. He began serving as auditor general on Jan.1.
Mautino was chosen over three other finalists: Mary Modelski, a division chief for Internal Audit for Alameda County, California; Elaine Nekritz, D-Northbrook, a chief negotiator on pension issues; and Larry Sanders, general counsel for the Rend Lake Conservancy District.
Given the fragile condition of the state, and the fact that citizens of Illinois are struggling to trust elected and appointed officials, the board's investigation into Mautino "should be dealt with the utmost urgency," the watchdog group asserted. "Short of the U.S. Attorney sending a request to delay, the State Board of Elections should hold Frank Mautino's feet to the fire, on schedule, just like any other person in this state!"
The board will make a decision on Mautino's request in its meeting next Monday.