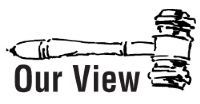 The Internal Revenue Service in recent years may have given audits a bad name, but audits are actually a good thing.
Real audits, that is. Not the illegitimate, arbitrary, and capricious ones the IRS had used to intimidate and harm citizens, corporations, and associations out of favor with the current administration, but the ones that businesses commission for themselves and government agencies submit to in order to double-check their operations and assure their constituencies of their competence and integrity.
Shareholders have a right to know if the companies they've invested in are being managed properly, and taxpayers have that same right with regard to public entities. An independent audit by a qualified outside auditor is one way of generating trust.
The State of Illinois has an Auditor General to scrutinize the expenditures of state agencies and make sure that they're legitimate. With the millions upon millions coming in every year in tax revenue, fees, etc., and going out in all directions, you can imagine what a difficult job that person has.
Naturally, care needs to be taken to assure that the Auditor General is someone fully qualified for the job and a person of the utmost integrity.
The last person you'd want is some political hack who can no longer get himself elected to office and has a documented record of being imprecise in his bookkeeping.
You know, someone like Frank Mautino.
Mautino had served as state representative for the 76th District for 24 years, but his re-elections were getting more difficult. He won the 2012 election with 63 percent, the 2014 election with just 50.5.
Things looked bad for Mautino, until longtime legislative allies appointed him to replace the retiring auditor general.
There's just one problem: Serious questions have been raised about oddities in Mautino's past campaign disclosure reports – oddities that warrant investigation and possibly prosecution and most certainly call into question his qualifications for the position of auditor general.
Someone needs to audit the new auditor.