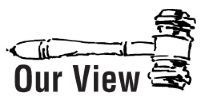 One day we're going to have to address the underlying problem. The sooner, the better.
We've ignored it for too long and it keeps getting worse. That's what problems do when they're ignored.
The use and distribution of illicit drugs in the Metro East is not the problem. Nor is the involvement of some law enforcement officials in this illegal activity. These are just symptoms of the problem.
The problem is, there's a culture of corruption in St. Clair and Madison Counties, in Chicago, and throughout Illinois.
We profess shock at the death of a young judge from cocaine intoxication, the arrest of his friend and fellow judge for heroin possession, the participation of both in ticket-fixing and charge-dropping schemes for their drug suppliers, and the other crimes and casualties associated with this ring of scofflaws – but aren't we all complicit in this culture of corruption?
How did St. Clair and Madison Counties get their longstanding and well-deserved reputations as judicial hellholes? And how could they have gotten those reputations if the majority of us had vociferously objected to the sleazy practices that some of our fellow citizens – in their capacity as attorneys, judges, and juries -- routinely were engaging in?
Is there anyone in St. Clair or Madison County who can honestly say he didn't know that unscrupulous attorneys from all over the country have been flocking to our courts for years, representing bogus classes with bogus claims, for the sole purpose of "legally" extorting money from legitimate companies with useful products and helpful services?
If there is such a person, where has he been hiding for the past 20 years -- in a cave in the bluffs?
Clearly, not enough of us did object, or not loudly enough or long enough.

Will we object now? Or has the culture of corruption taken such a hold of us that we no longer care at all?