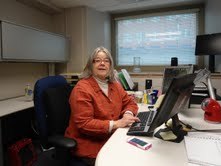 Suzanne BeDell, office automation supervisor in the Madison County Circuit Clerk's office, is retiring after 30 years of service. Her retirement party is set today in the jury assembly room of the courthouse.

BeDell, 67, has a master's degree in public administration from Southern Illinois University, Edwardsville.

She started working for Madison County as a graduate intern while working on her master's degree.

"I always knew I wanted to work in the public sector," said BeDell.

In her spare time, she enjoys cooking with natural foods, shopping at Whole Foods Market, community supported agriculture and yoga.

"Madison County has been very good to me. I really appreciate the opportunity, and the people are great," she said.