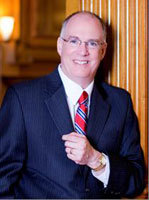 The number of new lawyers entering solo practice has jumped from 2.8 percent to 6 percent between 2007 and 2011, according to findings of a special bar group committee.

The Illinois State Bar Association's Committee on Law School Debt also found that about a quarter of attorneys working in private practice in Illinois who graduated in 2011 made less than $50,000 in their first year out of school.

Unable to properly finance a new law practice, the committee's findings show that many of these new attorneys consider leaving the practice of law and are more likely to commit ethics violations and face malpractice suits.

Although the committee has not yet finished its final report and recommendations, ISBA President John Thies shared some of its findings and preliminary conclusions earlier this month at a hearing of the American Bar Association's Task Force on the Future of Legal Education.

Thies provided The Record with his remarks from the ABA hearing, which took place in conjunction with the group's Midyear Meeting in Dallas.

Created earlier this year, the ISBA special committee hosted hearings throughout the state this fall and heard from dozens of witnesses, including attorneys from firms of various sizes, legal aid attorneys, law students, judges and educators.

The committee's final recommendations will be presented to the ISBA Board of Governors on March 8, Thies said, adding that he believes the ABA task force hopes to complete its own recommendations by August.

"Throughout the country, and certainly in my state, there is great concern about what our current system combined with certain economic realities – some of which may change, and some of which may not - is having on law students, young lawyers, law firms and law schools," Thies said at the ABA hearing.

"Chief among these is the crisis in law school-related debt. Most importantly, we are concerned about the impact this is having and will continue to have on the delivery of legal services."

Thies said "the debt burden of new attorneys, combined with their lack of readiness for practice upon graduation and a difficult job market, is detrimental to the public's ability to access quality legal services."

In addition to its effects on new lawyers, the committee found that law school debt has affected other sectors of the legal profession.

One effect of law school debt, according to Thies, is that small law firms run into problems when it comes to hiring and retaining competent attorneys.

"Many small firms are unable to pay the salaries new attorneys need to manage their debt," Thies said. "As a result, turnover at such firms is high, forcing those firms to spend additional time and resources training new attorneys."

The committee, Thies said, also found that law school debt has prevented more lawyers from working in public interest law, an area that has been in high demand in the tough economy.

"Attorneys with excessive debt are less able to take legal aid or government jobs which, in Illinois, have starting salaries between $40,000 and $50,000 per year," he said.

And Thies said that most attorneys who do take these jobs often leave within a few years, "depriving public interest offices of experienced mid-level attorneys and requiring them to train new hires constantly, cutting into the quality of services they provide."

In addition, Thies said at this month's ABA hearing that law school debt also appears to be driving new attorneys out of rural areas, which already have fewer lawyers per capita than more populated areas.

"[I]t is more difficult for lawyers to service significant debt in rural areas," Thies said of the committee's findings. "This problem is likely to intensify, as 64% of lawyers in counties with fewer than 25,000 people are over 50, compared to only 45% of lawyers statewide."

When older lawyers in these areas retire, Thies said "there will be fewer young attorneys to take their place."

The committee also found that the burden of law school debt seems to have a larger effect black and Hispanic students, who are more likely to have debt and higher debt loads.

"As a result, high debt loads may drive minorities away from the profession, making it less reflective of the diversity of America and diminishing its ability to serve minority clients," Thies said.

These findings, he said, have spurred the committee to look at a number of recommendations, including changes to the way law schools are financed, as well as their accreditation standards, curricula and faculty.

One of the recommendations the committee is considering would be for the federal government to place reasonable limits on the amount of money law students can borrow.

Another, Thies said, would be for Congress to "restrict loan eligibility to schools whose graduates meet certain employment and debt-repayment outcomes," similar to the model currently used by the Department of Education for for-profit and vocational schools.

"Under this program, law schools would face additional market pressure to train attorneys for practice at an affordable price, or they would lose their federal loan eligibility and likely go out of business," Thies said.

In addition to recommendations that would require changes from law schools, Thies said the committee is looking at measures that would require action from the Illinois Supreme Court.

Some of those would include allowing law school students to take the bar exam before graduation, requiring attorneys to report additional employment and salary information as part of their annual registration and helping attorneys and law students get more experience by broadening student practice rules.