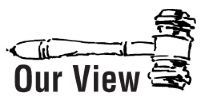 You'd think that exposure of scandals and the ensuing punishment of participants would discourage other ethically-challenged individuals from engaging in similarly illicit behaviors and risking comparable comeuppances.
Maybe they start out small and get bolder each time they get away with something.
Or maybe they think they're smarter than the last guy who got caught and that they'll know to stop before doing something so outrageous that it can't go unnoticed or be ignored.
But they're never as smart as they think they are. They never know when to quit.
How many Illinois governors must go to jail before successors realize that fraud and corruption cannot be concealed forever and ought to be avoided?
Yes, native daughter Hillary Rodham Clinton serves as a role model for would-be political gamers, continually eluding a day of reckoning despite her multiple outrages, but even she eventually may get herself into a trap she can't get out of.
One of the downsides of engaging in corruption is that you wind up surrounded by people who are corrupt, people who will turn on you in an instant to save themselves, people whose corrupt dealings with others may lead to their exposure -- and that in turn to yours.
The more a scammer gets away with the scams, the more reckless the scammer becomes, and the more danger there is of exposure to everyone involved. Eventually, the unwieldy edifice of lies implodes.
The recent arrest of New York State Assembly Speaker Sheldon Silver may be causing serious problems for members of the Simmons Law Firm in Alton.
According to the prosecutor's complaint, Silver secretly directed state funds to the Columbia University Mesothelioma Center, whose director, Dr. Robert Taub, provided a quid for the quo by referring asbestos patients to Silver's law firm.
It turns out that the not-so-good doctor had a similar arrangement with Simmons, providing referrals in return for millions in "grant" money.
Listen closely and you can hear the whole thing unraveling.