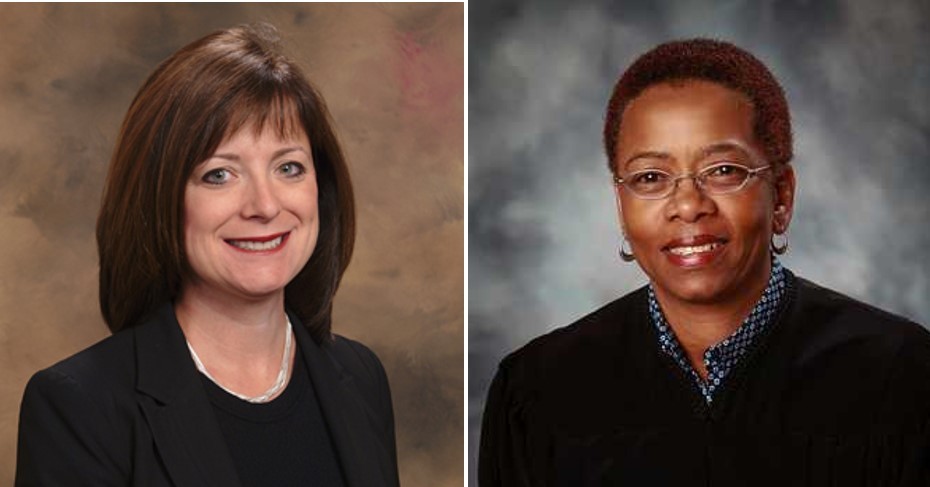 Rosenstengel and Yandle
EAST ST. LOUIS – Short of troops, Chief U.S. District Judge Nancy Rosenstengel announced battlefield promotions for magistrate judges on Nov. 18.
She signed an order providing for magistrates Reona Daly, Mark Beatty, and Gilbert Sison to take charge of civil cases where they currently perform a secondary role.
A district judge can pass a case to a magistrate on the case if the parties consent.
Parties in civil cases have begun receiving consent forms, and parties in new cases will receive forms starting Jan. 13.
While Rosenstengel aims to cut the number of civil cases on the dockets of district judges, the district judges will have to do all the work on cases they keep.
If parties don't consent, she wrote, referral of pretrial motions to magistrates would cease and the motions would be the prerogative of the district judge.
"Currently pending civil cases not selected for potential reassignment at this time will receive an order reflecting the termination of any referral to a magistrate judge, meaning that all pending and new matters will be handled by the presiding district judge," Rosenstengel wrote.
She found redistribution "necessary in light of two district judge vacancies."
Former district judge David Herndon retired last December, and former district judge Michael Reagan retired in March.
President Trump hasn't nominated replacements.
Rosenstengel holds the fort along with District Judge Staci Yandle and Senior Judge Phil Gilbert, who can pass up assignments he doesn't want.
Rosenstengel pitched her plan in a letter to members of the Bar.
"It means your case will be handled by one judge, which results in many efficiencies," she wrote.
"Perhaps more importantly, hearings and trials will not be delayed by the heavy criminal caseload currently being handled by the district judges.
"This is especially true in our current climate where we continue to have two district judge vacancies and criminal case filings are up significantly.
"This means motions will likely be decided sooner by the magistrate judge, and trials will not be delayed because of criminal cases.
"For this reason, I strongly encourage you to consent to a magistrate judge."
She called Daly, Beatty, and Sison smart, experienced, and hard working.
She directed her readers to the court website for information about them.