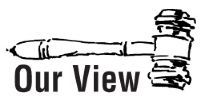 When State Supreme Court Justice Lloyd Karmeier retires from the bench next December, there'll be many ways to judge his 16-year career on the high court, including the quality of the decisions he made, the quality of the company he kept and the friends he made, and the quality of the enemies he accumulated.
That attorneys Stephen Tillery, Robert Clifford, and Tom Keefe will be included among those enemies speaks well of the man. Those three scoundrels went all out to prevent Karmeier's retention in 2014, their efforts culminating in a last-minute, $2 million negative campaign coordinated with outrageously false or misleading robocalls designed to tarnish the reputation of the well-respected jurist.
Early in his first term, Karmeier participated in decisions overturning class action judgments against State Farm and Philip Morris of roughly $1 billion and $10 billion, respectively. Tillery, et al. never forgave him for it and hoped to get those judgments reinstated by replacing Karmeier with a friendlier judge.
The trial bar's opposition to the pro-business Republican had been manifest 10 years earlier when Karmeier first ran for a seat on the high court, against plaintiff-friendly Democrat Gordon Maag, in a campaign that set a national record for money spent ($9 million). Who spends that kind of money to elect a judge? Attorneys who expect one candidate to favor their interests and know that the other won't, that's who. What's a few million when billion-dollar settlements are at stake?
Fortunately, Karmeier won handily in 2004 and managed to overcome the smear campaign and be retained in 2014. Had he not won both times, the business climate in Illinois would be far worse than it is now.
It will be interesting to see who enters the race to replace Karmeier, and where their support comes from. The primary' is in March, and the general election is next November. Let's hope Karmeier's successor will be of his same high caliber. Illinois desperately needs better jurists – not to mention better legislators and better public officials at all levels.