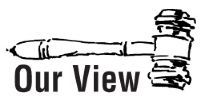 We had to wait a year to report the findings, but it was worth the wait.
As expected, examiners for the Illinois Department of Insurance concluded this past July that trustees of Cahokia village and its police pension fund improperly increased benefits for St. Clair County Sheriff Rick Watson just prior to his 2011 retirement as police chief of Cahokia. And he wasn't the only one who got special treatment.
As obsessive-compulsive TV detective Adrian Monk would say, "Here's what happened." Watson's benefits increased by 33 percent just days before he stopped being the village chief and went on to become county sheriff. His benefits went up because his salary was boosted substantially as he walked out the door.
During his first two years of "retirement," Watson accrued more in benefits than he contributed to the fund. His benefit last year as a retired police chief was $117,500, and that was on top of his $98,000-plus salary as a working sheriff. Nice work/retirement if you can get it.
Unfortunately for Watson, word got out about the golden parachute given to a guy who wasn't really retiring but moving on to another taxpayer-compensated position (eligible for additional retirement benefits). So, the fund trustees had to do damage control, hilariously announcing that they would investigate the dubious decision they themselves had made. Then, the Illinois Department of Insurance informed the trustees they were "due for a compliance exam" that would include a multi-year audit of the fund's records.
So, that was the report we were waiting for, and now we're getting "just the facts, ma'am" instead of the spin.
"The department has concluded that increasing 'salary' to inflate pensions and induce retirement is contrary to the Illinois pension code," Department of Insurance Examination Supervisor Antoaneta Kovacheva wrote in her draft report. "Such compensation is not commensurate with salary and contribution history and artificially increases pension fund liabilities in an actuarially unsound manner."
You don't have to be a TV detective to see what happened there.