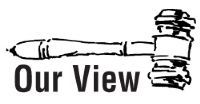 In 2017, a Missouri court of appeals vacated a $72 million talcum powder verdict against Johnson & Johnson because claims made against the company by an Alabama woman had no connection to Missouri.
While the case was on appeal, the U.S. Supreme Court issued its Bristol-Myers Squibb (BMS) ruling that specific personal jurisdiction requires a connection between the forum state and the specific claims at issue. In light of that ruling, and others preceding it, the appeals court was obliged to overturn the lower court decision.
"The impact of Bristol-Myers Squibb on the issue of personal jurisdiction for the trial court was not the result of a new rule of law, but a reaffirmation of the traditional rules of personal jurisdiction discussed long ago by the Supreme Court in International Shoe, and more recently reaffirmed in Daimler," Missouri appeals court Judge Kurt Odenwald emphasized in his concurring opinion.
The upshot is that plaintiffs attorneys must establish a connection to the venue they want to litigate in. They have to show that their clients are from the state in which they're suing, that products causing alleged injuries were purchased in that state, or that the company being targeted is headquartered or incorporated there.
There doesn't seem to be a whole lot of wiggle room there, but nobody wiggles like plaintiffs attorneys – and the ones suing Bayer Corp. on behalf of women allegedly injured by its contraceptive device Essure managed to convince two trial courts and an appeals court that Madison County is the proper venue for this action, despite the fact that 150 of the plaintiffs are not from Illinois and Bayer is neither headquartered nor incorporated in our state.
Maybe so, but Bayer conducted clinical trials of Essure in Illinois, created its marketing strategy in-state, and launched its Essure accreditation program here, too. So the plaintiffs attorneys argued, successfully, at the lower court levels. The Illinois Supreme Court was less credulous, however, granting the drug company's petitions for leave to appeal.
BMS won't be much of a precedent if it's stretched to the point of meaninglessness.