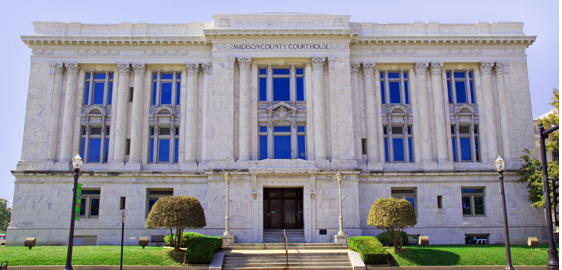 BELLEVILLE (Madison County Record) — A Michigan property casualty insurance company is suing a Missouri crane rental company over the injuries sustained in 2015 by a construction worker employed at a Venice magnesium plant.
In its three-page complaint filed Aug. 28 in Madison County Circuit Court Hastings Mutual Insurance Co. of Hastings, Mich. sued Miller Hoisting-Crane Rental Services, seeking more than $270,000.
According to the complaint, Hastings paid benefits for the injuries of Douglas Smith, and Miller Crane Hoisting is liable for the cost of those benefits.
Miller Hoisting, based in Imperial, Mo., did not respond to requests for comment.
Smith was working at Magnesium Elektron, spelled "Magnisium" in the complaint, as part of "construction activity, including improvement to real property," in Venice on Oct. 30, 2015. The suit alleges he "was knocked over by the crane being operated by the defendant, suffering various injuries."
Smith was employed by WSM, Inc. at the time, and Miller Hoisting was operating the crane as employed by Magnesium Electron as part of the construction activity, according to the complaint.
Miller Hoisting, the complaint alleges, committed negligent acts and or acts of omission in operating the crane in such a way that Smith was injured, ignoring hand signals and other directions, failing to warn Smith of hazardous conditions present and operating the crane "in a hazardous and unsafe fashion."
Smith received benefits from Hastings through application to WSM under the Illinois Workers' Compensation Act for expenses related to his medical care, the suit states, but lost of time from work and for permanent partial disability.
Under state law, Hastings has the right to seek compensation from Smith Hoisting after providing benefits to Smith, "including, but not limited to, the right to assume the position of plaintiff against this defendant if and when Smith did not pursue the defendant," the complaint said.
The suit says Hastings seeks $272,353.27 for disability and medical expenses, plus court costs. Hastings is represented by attorney Bruce E. Warren of Thomas Mamer LLP in Champaign.
Madison County Circuit Court Case number 2019L 001238