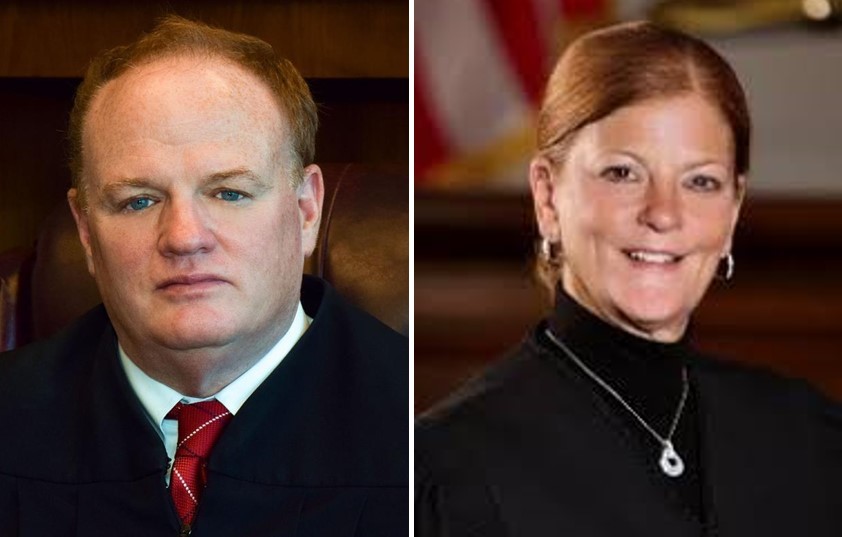 Gleeson and Cates
MOUNT VERNON – St. Clair County Chief Judge Andrew Gleeson improperly granted judgment against metal recycler Cerro Flow Products as a sanction in a discovery dispute, Fifth District appellate judges ruled on Sept. 6.
They vacated an order Gleeson signed after starting trial in July, holding Cerro liable for injuries from pollution.
Trial would have proceeded on damages only.
"The purpose of imposing a sanction is to coerce compliance with discovery rules, not to punish the noncompliant party," Justice Judy Cates wrote.
"A sanction that results in a default judgment is a drastic sanction which should be invoked only in those cases where the party's action shows a deliberate, contumacious, or unwarranted disregard of the court's authority.
"Here, plaintiffs filed a motion for sanctions alleging a discovery violation and had not previously availed themselves of the alternative procedural tools that were available prior to filing their motion."
Justices Melissa Chapman and Randy Moore concurred.
Plaintiff Willie Hudson, the first of about 11,000 plaintiffs to bring claims to trial, alleges he suffered injuries from dioxin that Cerro released.
Gleeson had set trial to start on July 11, to last for a month.
Hudson's lawyers moved for sanctions on July 10, claiming Cerro withheld electronic information without providing a privilege log.
They claimed Cerro tried to retrieve documents it inadvertently produced. They attached a message from Cerro's lawyers to Hudson's lawyers on July 8, asserting attorney client privilege over a letter from 1987.
On July 11, Gleeson presided over selection of jurors but didn't swear them in.
On July 12, a Friday, he heard the motion for sanctions.
Counsel for Cerro said the 1987 letter was an exhibit at a deposition in 2017. They said that when plaintiff's counsel asked questions about it at the deposition, Cerro objected and reserved a right to retrieve it.
Counsel further said that Cerro provided a privilege log for paper discovery and none for electronic information, but that plaintiffs didn't object and didn't ask for a log until June 25.
Gleeson ordered Cerro to produce all electronic information by 3 p.m.
At a hearing that afternoon, Cerro counsel moved for time to prepare a log.
Counsel said it wasn't physically possible to produce the documents that day. Counsel said the documents contained information potentially protected under the national Health Insurance Portability and Accountability Act of 1996.
Gleeson gave Cerro until noon Saturday, July 13.
When Cerro Counsel said it was still impossible, Gleeson struck the pleadings and granted judgment on liability.
Cerro petitioned Fifth District judges for emergency relief on Friday night, and the appellate court provided it the following Monday by staying the trial.
The Fifth District expedited the briefs, skipped oral argument, and swiftly resolved the appeal.
"Here, the trial court's denial of the motion to stay effectively required Cerro to either product thousands of electronically stored documents to plaintiffs, potentially exposing privileged communications and confidential health documents without any in camera review by the court, or suffer a default judgment," Cates wrote.
The panel of justices held that Cerro didn't waive attorney client privilege for paper discovery and that nothing in the record would allow the court to opine on whether Cerro waived privilege for electronically stored information.
Cates wrote that Cerro couldn't waive rights of third parties under the national law. Where information is inadvertently produced in discovery, the party claiming privilege may notify another party of the claim.
She wrote that although rules provide a broad scope of discovery, parties do not sacrifice all privacy, confidentiality, and privilege.
"The compelled disclosure of highly personal information having no bearing on the issues the lawsuit is an unconstitutional invasion of privacy," Cates wrote.
She wrote that Hudson didn't identify an interrogatory about the 1987 letter or a request for its production, nor indicate why it was relevant. According to a transcript, the letter was shown to Gleeson but wasn't marked as an exhibit or made part of the record.
"Plaintiffs simply argued that the letter was not privileged because persons outside the attorney client relationship were copied on the letter, and that Cerro's improper claim of privilege led them to suspect that Cerro had improperly claimed privilege as to thousands of electronically stored materials," Cates wrote.
She wrote that Gleeson made no findings that the letter was subject to disclosure, or that the assertion of privilege was valid, or that Cerro violated a rule by asserting its right to retrieve it. Further, she wrote that he made no finding that Hudson's counsel made a good faith effort to contact opposing counsel before moving for sanctions.
She wrote that if Hudson should withdraw the motion, Gleeson would maintain discretion on how to proceed with the claims he scheduled for trial.
She directed the court clerk to issue the mandate "forthwith."
Thomas Ysursa of Belleville represents Cerro, along with Mark Kircher of Milwaukee and Edward Poor and Anthony Steinike of Chicago.
Christopher Cueto, Lloyd A. Cueto, Clyde Kuehn, and Paul Schoen, all of Belleville, represent Hudson, along with Troy Walton of Edwardsville and Paul McKie of the Environmental Litigation Group in Birmingham, Ala.