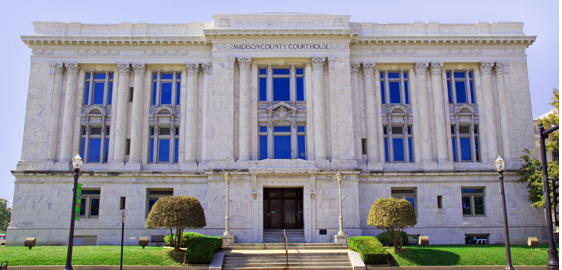 A Madison County trial ended in a settlement Monday after two motorists reached an agreement during jury selection in a suit involving a Collinsville crash.
The trial began Monday in Associate Judge Stephen Stobbs' courtroom. The case was reassigned to Stobbs on Dec. 4, 2018. The case had previously been assigned to former Circuit Judge Andreas Matoesian, who retired in July but had been out on leave since September 2018.
Plaintiff Erin Goebel was represented by Angie Zinzilieta of Wendler Law PC in Edwardsville.
Defendant Samuel Mckeehan was represented by Joel Beckwith of Freeark Harvey & Mendillo PC in Belleville.
Goebel filed her one-count complaint on July 12, 2016 against Mckeehan.
According to the complaint. Goebel was driving a vehicle on North Bluff Road in Collinsville on April 25, 2015, when she stopped at a stoplight at the intersection with Eastport Plaza. She claimed Mckeehan was operating a vehicle at the same place in a southerly direction when he made a right turn directly into the plaintiff's vehicle.
Goebel alleged the defendant had a duty to operate his vehicle with due regard for the safety of others. She accused Mckeehan of violating that duty by negligently failing to obey the traffic device, failing to yield the right of way, failing to keep a proper lookout, driving his vehicle in a reckless manner, driving his vehicle at a speed greater than reasonable and proper, failing to drive his vehicle on the right half of the roadway, failing to drive his vehicle within a single lane, failing to sound a warning, and failing to reduce speed to avoid a collision.
As a result, Goebel claimed she sustained severe and permanent injuries, incurred medical expenses, lost wages and suffered impairment.
She sought a judgment in excess of $50,000 plus costs.
Mckeehan answered the complaint on Aug. 9, 2016, denying liability.
In his affirmative defenses, the defendant argued Goebel's own negligence was the sole proximate cause for any alleged injuries.
He also argued that any alleged injuries were the result of "independent, intervening causes over which defendant had no control and which were not known to or reasonably foreseeable by defendant."
Madison County Circuit Court case number 16-L-984