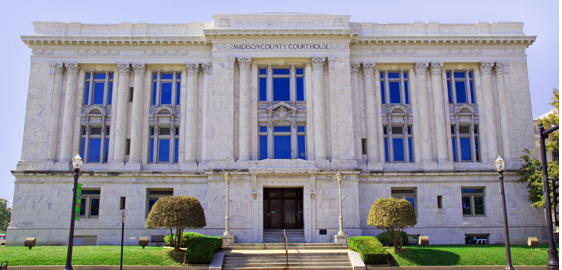 COLLINSVILLE – Roughly eight months after being acquitted of first degree murder in St. Clair County, David Fields was charged Aug. 5 with unlawful possession of a weapon by a felon in Madison County.
Fields, 23, of East St. Louis, was arrested in the City of Collinsville on July 31 for knowingly possessing a Century Arms International MDLPAP pistol grip rifle.
The Collinsville Police Department would not release the arrest report unless a Freedom of Information Act request was filed. A spokesperson for the department indicated it would take between five and seven days to produce after the request was filed.
According to the charge on file at Madison County Circuit Court, Fields may not possess a weapon after he was convicted of aggravated battery on Aug. 10, 2015 in St. Clair County.
His bail is set at $100,000.
Unlawful possession of weapons by a felon is a class 2 felony and carries a three to seven year prison sentence and/or a fine of up to $25,000.
A preliminary hearing for Fields is set for 9 a.m. on Aug. 16
Fields previously waited in jail for two years while the Carl Silas murder case was pending in St. Clair County.
Silas had died from two gunshots fired from a rifle on Dec. 30, 2016, in a West Boulevard apartment in Belleville.
During the five-day trial in Circuit Judge Robert Haida's courtroom, evidence showed that nearly an hour had passed between the murder and the 911 call and that Silas's body appeared to have been moved. Several witness testimonies had also changed during the investigation.
The state's crime scene technician hadn't collected much evidence beyond photographs; the fingerprint expert hadn't found prints and the firearm expert had examined a gun from the scene but not a rifle. Further, a murder weapon was never produced.