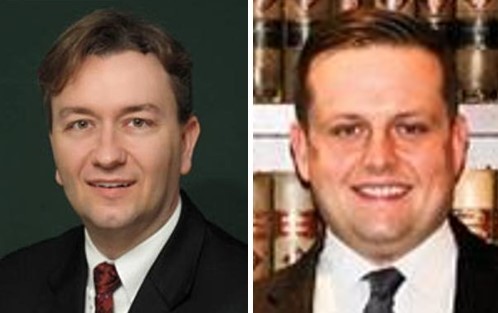 Blotevogel and Laquet
BELLEVILLE – Circuit Judge Heinz Rudolf delayed bench trial of a defamation suit against Beelman Truck Company a week before he would have held it, because the estimate of lost wages nearly doubled.
He granted continuance on an oral motion from Beelman on July 31.
Plaintiff Jeff Flynn claims Beelman improperly terminated him on information from a second defendant, business owner William Langley of Jacksonville.
Attorney Michael Blotevogel of Maryville filed the suit in 2017.
According to the suit, Beelman employed Flynn in 2016, from June 23 to Aug. 8.
In response to Beelman's request of Langley for information pertaining to Flynn's previous employment, Langley on Aug. 2, 2016, told a Beelman representative that Flynn filed a bogus workers' compensation claim.
Flynn's suit claims the statement was verifiably false, as the claim was based on an injury that occurred in the course and scope of his employment. Langley allegedly had already agreed to a settlement that the state workers' compensation commission approved.
Flynn claims losses in wages, earning capacity, and health insurance. He also claims damage from health issues, "due to the need to work longer hours to attempt to match what he would have earned at Beelman."
Former judge Vincent Lopinot, about to retire last year, set trial this Aug. 5.
This July 12, Beelman counsel Andrew Laquet of Richmond, Heights, Mo., moved to continue trial.
He wrote that a witness Beelman needed to depose required emergency surgery.
Blotevogel opposed delay, writing that Beelman didn't rely on anything it reviewed from the witness when it fired Flynn.
Laquet replied that, "If the jury believes plaintiff's workers' compensation claim was suspect, then Beelman cannot be liable."
Rudolf heard argument in chambers.
On July 19, Associate Judge Kevin Hoerner signed an order directing the parties to exchange evidence motions by July 29.
He set a pretrial conference before Rudolf on July 31.
On that date, the motion about the witness didn't matter.
Laquet told Rudolf that Flynn's expert nearly doubled the estimate of lost wages.
Rudolf asked if the lawyers didn't discuss it before they met in chambers.
He said no one seems to talk.
Laquet said he got information he should have had in February. He said he and his client prepared for trial on lost wages less than $400,000, and the current report estimated more than $700,000.
Rudolf resisted delay at first, saying there would be vigorous cross examination.
"You can impeach her with her own report," Rudolf said.
Laquet said he needed his own economist to review the estimate.
Rudolf said he told them to settle or they'd go to trial.
"I don't want to bump this trial," he said.
He told all lawyers, "You owe it to your clients to move this thing along."
He asked them how long trial would take, and they said three days.
He checked his calendar and asked about Oct. 7.
That set off a chain reaction of reasons why dates wouldn't work.
Rudolf said, "I set this thing around those things."
He set Oct. 21.