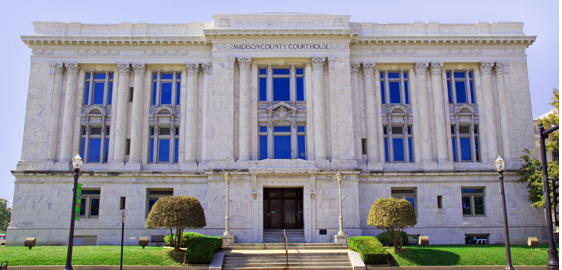 Madison County Board Chairman Kurt Prenzler and a former highway department employee each seek sanctions against the other for failing to comply with discovery in a suit alleging the county employee was improperly discharged.
A motion hearing is set for July 24 at 9 a.m. with Circuit Judge David Dugan.
Plaintiff Lance Feezel filed his complaint May 25, 2018 against Prenzler, individually and in his capacity as Madison County Chairman, and Madison County. Feezel is represented by attorneys Stephen Mudge of Reed Armstrong Mudge & Morrissey PC in Edwardsville and Katherine Smith of the Law Offices of Katherine Smith in Alton.
According to the complaint, Feezel became employed by the Madison County Highway Department on Feb. 8, 1988, where he remained employed until his termination on June 16, 2017.
During his 29-year career, he claims he maintained exemplary job performance and was eventually promoted to Construction Engineer. He was "responsible for overseeing Madison County's road and bridge projects to ensure that the county's resources were used efficiently, effectively and in a responsible manner in conformance with the county's policies.
He worked under County Engineer Mark Gvillo and Assistant County Engineer Greg Schuette.
"When plaintiff was promoted to Construction Engineer, Gvillo informed plaintiff that a casual work-style would no longer be acceptable for the employees of the Highway Department and that he expected a high-quality work product that was on schedule.
"Gvillo informed plaintiff that substandard work, not working on county business while at work, and failing to meet project deadlines would be unacceptable.
"Gvillo made it the primary part of plaintiff's job to make sure that Highway Department employees were working hard, producing high-quality work that was on schedule and without excuses," the suit states.
Gvillo also required Feezel to oversee new time-keeping procedures, including daily attendance logs for all construction and engineering employees.
The suit states that some coworkers were unwilling to follow the new procedures and rules, which caused disruptions and delayed project schedules. They also allegedly falsified reports and worked on non-county business during the work day.
"Since the Highway Department is charged with the safety of Madison County's roads and bridges, their conduct compromised public safety, wasted tax dollars and violated the public's trust in an honest government," the suit states.
Feezel claims he was instructed to direct those coworkers to "get back to work" and to improve the quality of their work. He claims he communicated the messages in a professional and courteous manner.
On March 6, 2017, Prenzler allegedly received an anonymous letter claiming Feezel was bullying his coworkers. Prenzler allegedly asked former Deputy Administrator Steve Adler to investigate.
Feezel claims Gvillo assured Adler that the plaintiff's employment history was "exemplary" and showed that he had never been reprimanded, disciplined or written up for any reason.
On March 13, 2017, Feezel alleges he was met at his vehicle by Gvillo and Schuette when he showed up for work. He claims he was told he was being relieved of his job responsibilities and was placed on administrative leave.
On March 27, 2017, Feezel claims he asked Prenzler if he could return to work after explaining the new rules and expectations he had been required to uphold.
However, on April 4, 2017, Prenzler allegedly asked Feezel to prepare a separation agreement "wherein the county would pay plaintiff money in exchange for his agreement to resign from his job."
Feezel again requested to return to work on April 13, 2017, but also provided a separation agreement at the behest of Prenzler, the suit states.
Then on June 19, 2017, Feezel allegedly received a letter in the mail informing him that he was terminated from his employment June 16, 2017.
Feezel allegedly requested an exit interview and asked why he had been terminated. He claims the county refused his requests. The county also allegedly refused to give the plaintiff a hearing to respond to the anonymous coworker's letter.
On July 18, 2017, the County Board's Personnel Committee met and allegedly found that Prenzler should not have terminated Feezel. The committee offered to reinstate the plaintiff and extended a written offer on Aug. 15, 2017.
Feezel allegedly accepted the offer and was asked to draft an agreement stating that he would return to work in his former position as Construction Engineer.
Following a meeting on Aug. 23, 2017, Prenzler and committee members allegedly discussed Feezel's personnel matter with the media.
"That evening and in the days following, details about plaintiff's disciplinary matter and his termination appeared in multiple newspapers throughout the county," the suit states.
Feezel alleges that he later learned that despite his agreement with the county, he was being demoted and disciplinary restrictions were being imposed. He was given two days to accept the new offer or forfeit his opportunity to return to work. When he did not accept the new offer, he was considered as having "abandoned his job," the suit states.
Feezel claims his "professional reputation has been damaged and he has been stigmatized by the county's actions."
In their answer to the complaint, the defendants argue that Feezel's claims are frivolous and that "there was no meeting of the minds between the parties."
The defendants argue that all employment actions were done with legitimate business reasons.
"Defendants neither made any decision, nor took any action that was motivated by malice or evil motive or intent, nor were defendants callously indifferent to plaintiff's rights and, therefore punitive damages are not recoverable against defendants," the answer states.
The defendants argue that Prenzler's actions "were taken in good faith, for legitimate and lawful reasons and taken in the course of the performance of defendant Kurt Prenzler's duties in an organization, and with the belief that his actions did not violate established principles of law of which he was or should have been aware."
Madison County and Prenzler also argue that Feezel admitted that he should not have been allowed to continue to supervise his coworkers and that they had an obligation to protect employees from "harassment and bullying by plaintiff."
The defendants filed a motion to compel and for sanctions on March 11 through attorneys Christi Swick and John Gilbert of Sandberg Phoenix & von Gontard PC in Edwardsville.
They argue that on July 20, 2018, they served Feezel with interrogatories. After requesting production of written discovery responses three separate times, the defendants claim they filed a motion to compel on Sept. 28, 2018.
The plaintiff was allegedly ordered to produce his discovery compliance on Dec. 21, 2018.
The defendants allegedly received the responses on Dec. 27, 2018 with "numerous untimely objections and incomplete responses."
"Plaintiff has not supplemented his discovery response and it is now over six months overdue," the motion states. "Plaintiff's unwillingness to fully answer discovery requests has caused defendants to incur additional expenses and has prejudiced defendants' ability to defend against plaintiff's allegations."
Feezel filed a motion to compel discovery and for sanctions on May 31. He argues that he served the defendants with interrogatories and a request to produce documents on Oct. 8, 2018.
In response, the defendants allegedly objected to and failed to answer 14 interrogatories and 12 requests to produce documents, arguing that they require a protective order before answering. The defendants obtained a protective order on Dec. 21, 2018.
Feezel alleges the defendants continue to refuse to comply with the discovery.
"Defendants' unwillingness to answer discovery requests has caused plaintiff to incur additional expenses and has prejudiced plaintiff's ability to complete discovery in this case.
"Defendants should be sanctioned by this honorable court by requiring defendants to pay attorneys' fees incurred by plaintiff in obtaining said discovery," the motion states.
The defendants filed a response on June 14, arguing that they had provided their initial responses in November 2018 and had not been ordered to provide supplemental responses by a certain date.
The defendants then served the plaintiff with supplemental responses on June 7 and June 12, the response states.
"Because defendants have fully complied with plaintiff's discovery requests by providing their supplemental responses, plaintiff's motion to compel discovery is moot and, therefore, should be denied," the response states.
Madison County Circuit Court case number 18-L-696