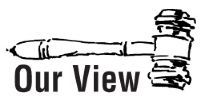 "So, sue me."
That's the smart aleck's response to a complaint or criticism. It sounds cocky, as if the person saying it is confident he would win in court if the other party did indeed sue. But in most cases, it's merely a rhetorical taunt, the taunter assuming that the challenge will not be accepted.
But what if the challenge is accepted? What if you are sued? And what if the plaintiff has a good case, you're likely to lose, and it's going to cost you a bundle?
That's when you pat yourself on the back for being so clever and having the foresight to set up multiple, ostensibly distinct enterprises under your corporate umbrella. Now all you have to do is figure out a way to transfer the assets of the targeted enterprise to one that isn't being targeted.
How to do that? By having one enterprise make a claim against the other. By suing yourself.
Then, the first enterprise, bereft of its assets, can file for bankruptcy and remove the incentive for the suit, making the plaintiff's suit pointless.
That's essentially what Chicago investor Thane Ritchie did, eventually, when the Huizenga Managers Fund filed suit against one of his enterprises. At the time he was Illinois State Senate Majority Leader, James Clayborne and some of his associates at the Clayborne Sabo & Wagner law firm in Belleville provided Ritchie legal assistance in the effort to perpetrate this alleged scam.
Things didn't turn out as expected, however. There were a couple of snags. A U.S. Justice Department bankruptcy trustee recognized the fraudulent nature of the default and recommended that the judgment be scrutinized. A Cook County judge subsequently referred to the state's attorney for criminal investigation all of the lawyers involved in a motion filed on Ritchie's behalf by Clayborne's firm.
As if that wasn't a bad enough turn of events for Clayborne, et al., it gets worse: Clayborne's firm alleges in a lawsuit that it billed Ritchie more than $500,000 for services rendered – and allegedly got stiffed.
Everyone who feels sorry for Clayborne and his co-conspirators, raise your third hand.