A medical malpractice suit alleging a woman died from a blood clot caused by a sprained ankle is at trial again after the plaintiffs accused Circuit Judge Andreas Matoesian of bias in favor of the defense and the Fifth District Appellate Court ruled that a retrial was necessary.
The retrial began June 17 in Circuit Judge David Dugan's courtroom.
Plaintiffs James Greco, as special administrator of his wife Tamara Greco's estate, and as legal guardian and next friend of Taylor Greco, Heather McKaig and Nicholas McKaig are represented at trial by David Horan of St. Louis.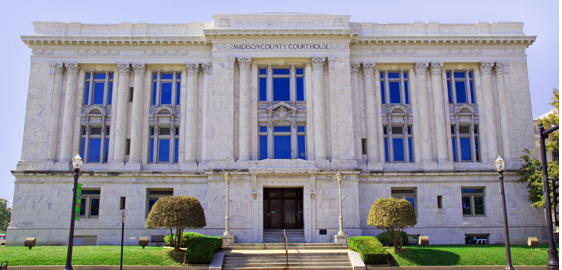 Defendants Orthopedic & Sports Medicine Clinic PC and Dr. Bruce T. Vest Jr. are represented by Philip Willman and Justin Hardin of Brown & James in St. Louis and Don Weber of Craney Law Group LLC in Edwardsville.
During Vest's testimony Tuesday, plaintiff's counsel mentioned that attorney Steve Selby of Smith Mendenhall Selby & Cole in Alton was the patient's employer, where she worked as a secretary at the time of her death. He asked Vest if Selby was also his friend and attorney.
"Correct," Vest said.
However, Selby is not representing Vest in this medical malpractice suit.
Vest confirmed that he sent medical records to Selby following Tammy Greco's death, explaining that he was attempting to help James Greco with securing life insurance funds.
"When you found out that Tammy died and you had seen her only two days before, you sent records to your attorney?" he was asked.
Greco's counsel also mentioned that no one has been able to find x-rays of the decedent's leg, ankle and foot, which Vest later testified that he routinely sent the copies home with the patient.
Vest was asked who gave him permission to send medical information to Selby and whether he called the family to express any regret.
"I'm a human," Vest said. "I have feelings. I'm sorry for their loss."
He added that he was trying to help by sending the records to Selby, who may have been his friend and attorney but was also Tammy Greco's employer.
The case first went to trial in April 2013 in Matoesian's courtroom. During the trial, the plaintiffs had sought to prohibit media contact in the case, arguing that media stories had been written "in a manner that is favorable to the defendants and negative to the plaintiffs."
Matoesian denied the request.
Jurors returned a verdict in favor of the defendants on April 16, 2013.
Horan and co-counsel Gregory Fenlon filed a post-judgment motion for a new trial on May 14, 2013, arguing that court testimony regarding unwitnessed conversations Vest and his staff had with Tammy Greco before her death violated the Dead Man's Act.
The Dead Man's Act prohibits testimony on matters that cannot be rebutted because of the death of the only other party to the conversation or witness to the event.
They also argued that the defense provided Kristen Jun as a "surprise witness" to testify that Greco had a family history of blood clotting disease.
Matoesian denied the motion for a new trial on July 5, 2013. The plaintiffs appealed.
The Fifth District Appellate Court reversed Matoesian's order on July 9, 2015 and remanded the case for a new trial.
On July 12, 2016, the plaintiffs filed a petition to substitute Matoesian.
"Throughout the pre-trial and trial proceedings, Judge Matoesian demonstrated a bias and partiality favorable to the defense, especially when the conversation included defense counsel Don Weber, a former Madison County Circuit Judge. A fair and scrupulous review of the court file and transcript evidences the inescapable conclusion of favoritism and bias.
"The Appellate Court opinion, remanding this case for a new trial because of the prejudicial rulings of the trial court, strongly suggests the lack of impartiality, favoritism, bias or interest upon Judge Matoesian," the petition stated.
In a July 15 order, Matoesian recused himself.
He wrote, "The undersigned disagrees with the motion to substitute judge and the allegations contained in the motion. However, in order to avoid delay the court recuses."
The suit was originally filed in 2006. It was voluntarily dismissed in February 2010 and refiled in February 2011.
According to the complaint, Tamara, or "Tammy," Greco, 36, sprained her ankle while bowling on April 29, 2004. She went to the emergency room that evening and was advised to elevate her leg, wear a brace, use crutches, apply an ice pack and see an orthopedic surgeon.
Tammy Greco visited Orthopedic & Sports Medicine Clinic PC in Alton the next day. She was diagnosed by physician's assistant Douglas Spafford with a sprained left ankle and was placed in an Equalizer brace. She was instructed to return on May 14, 2004, for a follow up.
However, Tammy Greco was advised to come in on May 5, 2004, after she called complaining of a burning and numb feeling in her toes on her left foot. Vest allegedly performed a Homan's sign test by pushing her foot back to determine if there was a presence of a deep vein thrombosis, or DVT. The test was negative.
Vest reported that the tingling in her toes was thought to be related to additional soft tissue swelling due to her obesity and the brace being too tight. The brace was loosened and Tammy Greco was told to ambulate as much as tolerated on her left leg. Vest told her to return May 19, 2004 for a follow up.
However, Tammy Greco died two days later when she was found unresponsive while in her vehicle in her employer's parking lot. She was transported to St. Anthony's Health Center and died less than two hours later. According to her death certificate, she suffered from a bilateral pulmonary thromboemboli due to immobility of her left foot.
The plaintiffs allege the defendants breached the standard of care in failing to order additional tests and failing to prescribe prophylactic anticoagulation medication upon her initial visit to the defendants' office.
The defendants deny they breached the standard of care.
According to the defendants' trial brief, Tammy Greco did not have any major risk factors for development of a deep vein thrombosis when her injury was diagnosed.
Vest testified Tuesday that Tammy Greco was given a boot, which allows for some motion. When she called his office to report that her toes were tingling and falling asleep, she was advised by a nurse to loosen the boot. Vest explained that he did not necessarily believe the boot was too tight, but thought it might have been putting pressure on the injury and causing the symptoms.
He also noted that the decedent was 5 foot 4 inches and weighed 230 lbs. Due to her size, nerves tend to swell more and cause tingling or numbness.
When Tammy Greco called a second time to report worsening symptoms, she was advised to come in for a follow up. Vest said he had a list of possible reasons for the symptoms and went through several tests to determine what could be the cause. A DVT was on the list, but was not necessarily something he suspected was the cause, he said.
He added that he was not concerned that her symptoms were not getting better after six days because it could take 10-14 days before swelling starts to go down and symptoms improve.
He also testified that the risk of a DVT is significantly less for a sprained ankle than for other leg injuries, such as a pelvic or femur fracture.
Vest was asked why he didn't inform Tammy Greco of the increased risk of a DVT while on estrogen-based birth control. He responded that she could not remember what type of birth control she was on, so they were unaware whether she was on an estrogen-based birth control. He added that birth control is also a minor risk factor and not something that is routinely stressed to patients.
He began by saying "We" did not tell her about the risk factors.
"Not we, you. You," the plaintiff's counsel said.
Vest said Tammy Greco had a thrombosis that came loose, but they did not know where the thrombosis came from or when it developed.
Vest testified that he had never seen a patient die from a pulmonary embolism caused by a sprained ankle in his 28 years of practice or his three years as a medical student.
"I did not tell her she had a life threatening diagnosis, because I did not know she had one," he said.
Tammy Greco's daughter, Taylor Greco, also briefly testified during the trial. She would have been 10 months old when her mother died.
She testified that she has no memories of her mother and is saddened that she doesn't have both parents in her life.
"It's not easy," she said. "I don't have a mother figure around to talk certain stuff about."
She also told jurors that she will have to go to her first prom and get married without her mother there.
She said she missed her mother the most when she was in junior high school and she was invited to a tea party for mothers and their daughters.
"It was then that I came to kind of a reality … that was when I realized that I don't have her here," she said.
Madison County Circuit Court case number 11-L-140