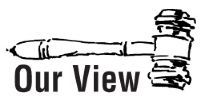 That's what "Rainbow Benny" says in Shadow of the Thin Man when he finds out a fellow thug is skipping town and welshing on a loan of $8,000.
As the saying goes, there's no honor among thieves. Maybe Benny was being a little naive in trusting his companion in crime. Maybe he should have applied Ronald Reagan's favorite Russian proverb to the relationship: Trust, but verify.
But then the question becomes: how much to trust and how much to verify?
That's a question we all face on a regular basis – whether we're making a deal, pursuing a romance, hiring a new employee or what-have-you. It's hard to know where to draw the line.
Chief Public Defender John Rekowski, for one, doesn't seem to know, but he may be learning from his mistakes.
Rekowski recently had to fire an employee for impersonating an attorney after learning that she hadn't passed the state bar exam like she'd said. Apparently, during the interviewing process, he'd trusted too much and verified too little.
That same employee previously had told Rekowski she would be out of the state in February for a relative's funeral, during which time she actually was retaking the bar exam in Chicago … and failing it again.
"We were deceived, but it is what it is," Rekowski glibly conceded during a recent Judiciary Committee meeting.
Note the use of the plural pronoun. It was a collective error, not his own personal fault. If it had been something praiseworthy that he'd had nothing to do with, he might have taken sole credit for it, but not this. This big screw-up was something to share with everyone.
The fired employee was taken into custody, and bail set at $100,000. She has been charged with impersonating an attorney, theft from a government entity (for accepting a $57,000 annual salary as an attorney without the requisite license), and forgery (for producing a fake bar card).
Let's just hope the price county taxpayers may have to pay in potential litigation or re-trials will be kept to a minimum.