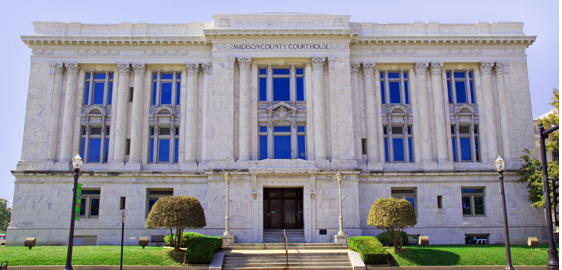 Madison County Circuit Judge Dennis Ruth approved a confidential settlement in a civil lawsuit against a truck driver who has since disappeared while out on bond after causing a multi-vehicle fatal crash on I-55 in November 2017.
On June 4, Ruth entered an order approving the settlement and its distribution for plaintiff Lemual Carroll, as special administrator of the estate of Tori Renee Carroll.
The settlement resolves claims against defendants Mohamed Yussuf Jama, FAF Inc., and Keller Construction.
Jama also has a pending criminal case, where he was charged with reckless homicide – a class 3 felony – and eight counts of aggravated reckless driving – a class 4 felony.
He was charged after he previously turned himself in. He had been in custody at the Madison County jail in Edwardsville but was released on bond in April 2018. One of the conditions of the bond required him to appear at all court settings.
After several continuances, Jama's criminal trial was set for Dec. 10, 2018 in Associate Judge Neil Schroeder's courtroom. However, the defendant failed to appear.
In response, assistant state's attorney Crystal Uhe filed a motion for bail bond forfeiture after Jama failed to comply with the condition of his bond.
On Jan. 3, Schroeder found that Jama was duly notified to appear on Dec. 10, but failed to do so.
As a result, Schroeder forfeited bail in the amount of $150,000, which includes the cash deposit of $15,000. A warrant was issued for his arrest.
Jama was given 30 days to appear and move to vacate the bail forfeiture.
According to a Feb. 11 order, Jama again failed to appear within the allowed 30 days.
Jama's previous criminal attorney, Michael J. Mettes of Rosenblum Schwartz & Fry, filed a motion to withdraw as counsel on Feb. 20. He wrote that Jama failed to contact him for over six months despite repeated efforts by phone and mail to reach him.
"All correspondence to defendant at all known addresses has been returned as undeliverable," the motion stated.
Schroeder granted his motion to withdraw on March 26.
Brenda Schlichtig of Roberts Perryman PC in St. Louis, which represents Jama and FAF Inc. in the civil proceedings, said the firm has also been unable to contact Jama.
"They have not been able to find him," she said.
She explained that several letters and notifications have been sent to various email addresses and physical addresses in Texas, Ohio and Colorado without success. The most recent letter was sent May 23 asking Jama to appear for a deposition that had been scheduled in two related cases arising from the same collision.
"These all get returned," she said. "Return to sender, not deliverable."
A request for comment form the State's Attorney's office has not yet been returned.
The charges allege Jama was driving a 2016 Cascadia Freightliner tractor trailer in a construction zone near the Hamel exit on I-55 at a speed which was greater than reasonable and proper given the traffic conditions. The charges allege Jama failed to reduce speed appropriately and caused the fatal multi-vehicle collision.
As a result, Madisen N. Bertels, Hailey J. Bertels, Tori R. Carroll and Vivian Vu were killed, and 11 other individuals were injured in the crash.
According to a suit filed on behalf of Tori Carroll, 20, she was riding as a front seat passenger in a 2010 Kia Forte with Madisen Bertels, 17, and Hailey Bertels, 20, on Nov. 21 when the vehicle slowed due to the construction zone.
Jama allegedly crashed his truck into the Kia Forte, driving over the top of the vehicle. Carroll, 20, died as a result of her injuries on Nov. 30.
Hailey and Madisen Bertels were pronounced dead at the scene.
Carroll's suit suggested Jama may have been using a cell phone or another electronic device at the time of the crash.
According to Vu's suit, she was riding as a passenger in a 2016 Chevrolet Express bus along with other students returning from an academic conference in Chicago when Jama caused the multi-vehicle collision. Vu, 19, suffered injuries resulting in her death on Nov. 23.
Keller Construction is named a defendant in the suits as the general contractor performing repairs and construction on an asphalt crossover on the interstate. Keller Construction also installed the traffic control devices preceding and within the construction zone.
Lemual Carroll filed a motion to approve settlement on June 3 in his case through attorney Ronald Abernathy Jr. of Halvachs & Abernathy LLC in Belleville.
"In exchange for the confidential payment, plaintiff has agreed to dismiss the above-entitled complaint with prejudice and with each party bearing its own costs once payment is received," the motion stated.
On June 14, Dean Bertels and Cassandra Loflin, as independent co-administrators of the estates of Hailey and Madison Bertels, filed a motion for finding of good faith settlement with Keller Construction. The docket shows that claims against FAF Inc. and Jama remain pending.
Jama and FAF Inc. were dismissed with prejudice from Vu's suit on April 10 after a confidential settlement agreement had been paid in full. The plaintiff's claims against Keller Construction remain pending.
Madison County Circuit Court case number 18-L-54