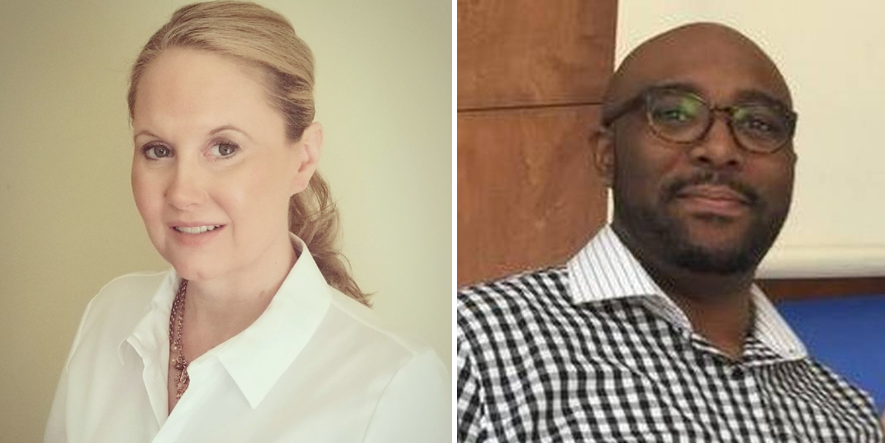 Hildebrand and Coleman
An investigation into alleged embezzlement of funds from an East St. Louis community center is continuing, it was confirmed following the handing down of an indictment against its former executive director.
Christopher Coleman, 42, of Troy, is charged with stealing money from the Lessie Bates Davis Neighborhood House, from July 2016, the month he was first appointed to his position, to December 2017. Coleman resigned as executive director in early January 2018.
Coleman embezzled the funds "for the benefit of himself and others," according to the grand jury indictment filed with the U.S. District Court of the Southern District of Illinois. He is accused of embezzling funds of more than $5,000 from an organization that receives more than $10,000 in federal funds.
Assistant U.S. Attorney Norm Smith said the investigation is continuing. He told the Record that there is a specific figure believed to have been embezzled that will be made public eventually, but he could not comment further on an open case
A facility linked to the Methodist Church, the Lessie Bates Davis Neighborhood House provides services for young children, youths, families, the elderly, and the homeless.
The alleged embezzlement of funds occurred during the state's budget impasse, during which time services provided by the organization, including for the elderly, support with utility bills, and the homeless, were cut.
According to the indictment, Coleman incorporated a company called Coleman Investment Group.
"Coleman created invoices showing this business as Computerized Information Group in an attempt to conceal his ownership in this (Coleman Investment Group) business," the indictment reads. "Coleman received excess checks in addition to his normal salary." Tax records show his salary in 2016 was just over $102,000.
State business records reveal that Coleman Investment Group was set up in 2009, but was involuntarily dissolved in 2010.
Tanya Hildenbrand, who ran as a Republican for State Senate in District 57 against Christopher Belt in 2018, said she was contacted by an informant about potential embezzlement at the Lessie Bates Davis center during the election campaign.
"As a candidate, I was contacted with information and then reported the information to the FBI, doing my duty," Hildenbrand told the Record.
"I hope that individuals that embezzle money from a non-profit are held accountable for their actions."
Coleman faces a maximum prison sentence of 10 years and a fine of up to $250,000 if convicted of stealing from an organization that receives federal funds. He is due in court June 25, The case is being investigated by the Southern Illinois Public Corruption Task Force.