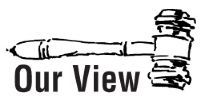 According to a recent advisory poll conducted among local attorneys by the Illinois State Bar Association (ISBA), Jennifer Hightower was the only one of 13 associate judges in the Third Judicial Circuit not recommended for reappointment in Madison County.
That's got to hurt, but what does it really mean? How many attorneys were invited to participate in the poll? How many responded? Of that number, how many have actually appeared before Hightower in court and had a chance to assess her qualifications? How many from that group just don't like her, or begrudge her for a decision unfavorable to them or their clients?
Some of those questions can be answered. Some can't.
The ISBA reports that it sent 528 ballots to attorneys practicing in Madison and Bond counties, asking them to evaluate only those judges about whom they can give "a fair, informed opinion." The bar association, however, does not provide figures for the number of ballots returned or for the number of attorneys evaluating any particular judge.
Thus, the sample is ordinarily something of a mystery to the public, and so it would remain had The Record not determined that only 189 ballots were returned for the Third Judicial Circuit and that only 126 attorneys evaluated Hightower.
During the last four years, Hightower has presided exclusively over a criminal docket, predominantly the DUI docket in which few lawyers practice. The 25 percent of attorneys returning ballots and evaluating Hightower on integrity, impartiality, legal ability, temperament, etc. gave her a 62.6 overall score in "meets requirements of office," just shy of the 65 score required for a "recommended" rating.
Granted, the poll is strictly an advisory one. Still, Hightower might like to know the justification for her low rating and whether or not personal prejudices played a part – for instance, an animus generated by her filing of a bar complaint against a DUI lawyer who postured about a client's lack of prior arrests, and from whose cases she later recused herself.