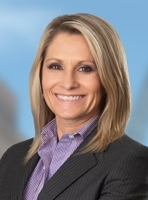 Beasley
Attorney Laura K. Beasley has joined Kansas City-based Baker Sterchi Cowden & Rice in the firm's Belleville office as a member.
"I am excited to join Baker Sterchi Cowden & Rice, "Beasley stated. "Originally drawn to the firm for its similar practice, larger footprint and lawyer reputations, I am looking forward to helping grow the firm's Illinois presence, specifically, in Madison and St. Clair Counties, as well as taking advantage of the firm's support and development opportunities."
Beasley focuses her practice in the areas of civil litigation defense, general liability, class action/mass torts, insurance coverage, personal injury, and product liability. She brings to the firm claims in the medical device and other manufacturing sectors.
"We have looked at lateral candidates for the firm's Belleville office since our merger with St. Louis based Williams Venker & Sanders last year. Laura really stood out to us, and we are thrilled to have her join our growing team of talented trial lawyers," managing partner James Scott Kreamer stated in a press release.
Beasley earned her J.D. from Southern Illinois University School of Law at Carbondale and her Bachelor of Science in Environmental Geography and Geology from Austin Peay University in Tennessee.
Prior to law school, Beasley was a licensed environmental specialist in Tennessee, working on several environmentally sensitive sites such as Underground Storage Tanks (USTs) and Superfund sites throughout the state.
After law school, Beasley served several years as an assistant St. Clair County State's Attorney.
Beasley was a partner at Joley Oliver & Beasley PC for nearly 10 years before joining Baker Sterchi Cowden & Rice. She is licensed to practice in Illinois and Missouri.
Beasley is a board member of the St. Clair County Bar Association and the State and Local Defense Organizations (SLDO) section of the Defense Research Institute. She is also second vice president of the Illinois Association of Defense Trial Counsel, a hearing officer for the Illinois Attorney Registration and Disciplinary Commission, and a member of the Illinois Supreme Courts Committee on Character and Fitness for the Fifth Judicial District.
Beasley is also a former president of the St. Clair County and East St. Louis Bar Associations.
In her community, Beasley serves as a board member for Knorer House and the Belleville Cultural Enrichment Organization, treasurer of The Heritage Society, and co-chair of the St. Clair County Bar Association's 5K Law Day Run.