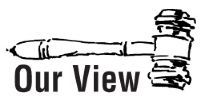 "I was elected to look into things. Faccin believes he is here to hide things."
That's how Madison County Board Chairman Kurt Prenzler summed up the situation at a hearing last week, distinguishing his good-government approach to public service from that of County Auditor Rick Faccin.
Faccin and his deputy and staff are the only county officials with direct access to the USL Financials software program used to maintain county records. That's how it's been for the last 18 years, and Faccin wants to keep it that way. Of course, he doesn't admit that he's hiding anything, but his fierce opposition to transparency does look suspicious.
Prenzler, on the other hand, is a firm believer in sunshine. Which is why he argued that the USL Financials system should be accessible to the board chairman (himself) and to the administrator and treasurer as well, so that they would not be dependent on the reports that Faccin deigns to provide them.
Last month, on a 13-12 party-line vote, the Republican members of the board resolved to end Faccin's self-appointed gatekeeper role and broaden access to the USL financial system. Faccin, however, filed suit, seeking an injunction to prevent such access.
Faccin isn't the only public official resisting Prenzler's demand for good government. In January 2018, a special investigative task force raided offices in Prenzler's administration and Madison County State's Attorney Tom Gibbons subsequently alleged that he had received evidence of possible illegal conduct by unnamed county officials.
Noting that Gibbons "refused to discuss the search warrant or the grand jury subpoena or provide any representation, advice, or counsel" to the accused parties, Prenzler, et al. petitioned for appointment of a special prosecutor.
After hearing details of the grand jury investigation, visiting Associate Judge Jerry Crisel concluded that Gibbons had a conflict of interest, removed him from any investigation or prosecution of the petitioners, and appointed the Illinois Attorney General to replace him.
It's time to shine some sunlight on Faccin and Gibbons and make them stop obstructing Prenzler's reform efforts.