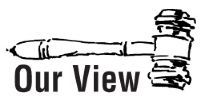 "Trish Murphy is not listed as counsel of record for plaintiffs at the district court," attorney Mark Downton observed in a motion he filed at U.S. District Court last week on behalf of his client in Hale v. State Farm.
Downton estimated that Murphy's share of the $80 million fee for class action lawyers who negotiated the $250 million settlement could run as high as $10 million, even though her name did not appear anywhere in the record before former District Judge David Herndon referred to her at a hearing. Nor did she submit an affidavit for fees.
"When did she become involved? What services did she perform? Is her share of the fee commensurate with her workload and contribution toward expenses?" Downton asked.
"Other than Judge Herndon's reference to Ms. Murphy at the fairness hearing, there is nothing in the record which reveals Ms. Murphy's role in the case," Downton objected. "Nor is there anything in the record that reveals Ms. Murphy's fee allocation or why she might be entitled to a multi-million dollar fee."
The questions asked are good ones, and the answers may be found in another interrogative: Who is Trish Murphy?
Patricia "Trish" Murphy (nee Littleton) is the wife of former federal judge Patrick Murphy, who once presided at the same federal court where Hale v. State Farm (a dubious reincarnation of the long-running Avery v. State Farm class action over aftermarket car parts) concluded last fall with the $250 million settlement.
Prior to his service as a federal judge, Patrick Murphy was a plaintiffs lawyer – and the local counsel for the national team of attorneys that filed the original Avery action. The billion-dollar jury award they obtained in 1999 was subsequently overturned, and once all appeals were exhausted, 13 years later it morphed into Hale.
Before she married Patrick Murphy, Trish Littleton worked in his law office on the Avery case.
That history may not qualify her for a piece of the pie now, but someone must think she's entitled.