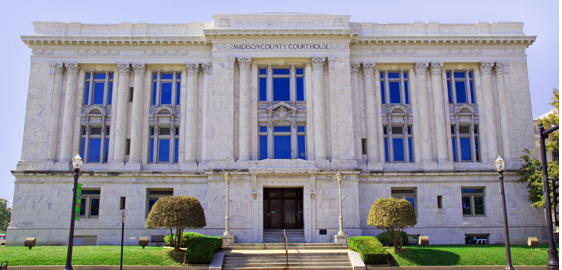 Madison County Circuit Judge Sarah Smith will preside over a case management conference Feb. 15 in a suit involving a Madison collision in which the plaintiff was awarded $50,000 in arbitration in June.
The case management conference represents the first law division case Smith will handle since she was elected circuit judge in November. She also presides over divorce, arbitration, and miscellaneous remedy cases, among others.
Circuit Judge David Dugan had previously presided over the collision suit.
The lawsuit was filed by Michael Bearley on June 15, 2016 against Lavinia Hubbard.

Smith
In his complaint, Bearley alleges he was driving his 2005 Chevrolet Silverado northbound on Illinois Route 203 near Rhodes Street in Madison on Jan. 20, 2016. He alleges Hubbard was driving her vehicle at the same location when she lost control, slid sideways into oncoming traffic and into the path of Bearley's vehicle.
Bearley claims Hubbard collided with the front of his vehicle, causing him to suffer injuries.
Bearley alleges Hubbard carelessly and negligently failed to keep a proper lookout for other vehicles on the roadway, failed to keep her vehicle under proper control, failed to operate her vehicle at a reasonable speed under the conditions and failed to avoid a collision.
Hubbard answered the complaint on July 22, 2016, denying liability.
The defendant argues that the plaintiff's alleged injuries were caused by his own negligence by failing to keep a proper lookout for other vehicles on the roadway, failing to keep his vehicle under control, failing to operate his vehicle at a reasonable speed and failing to avoid the collision.
The case was set for an arbitration hearing, where Bearley was awarded $50,000.
A notice of satisfaction of the award was filed July 31.
Bearley is represented by Alvin Paulson of Belleville.
Hubbard is represented by Kevin Clark of Litchfield Cavo in St. Louis.
Madison County Circuit Court case number 16-L-825