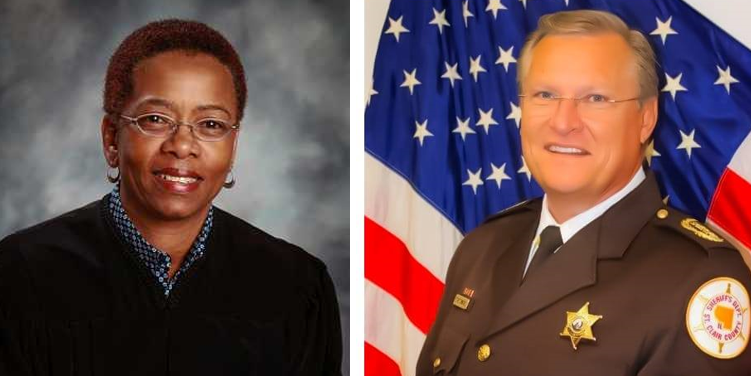 BENTON – St. Clair County Sheriff Rick Watson must defend wrongful death claims from the suicide of Joshua Jurcich, U.S. District Judge Staci Yandle ruled on Jan. 29.
Yandle denied summary judgment against a claim that Watson lacked adequate suicide prevention policies.
She also denied summary judgment against a claim that he bears responsibility for actions of eight employees who stand as defendants with him.
"There is evidence from which a reasonable jury could find McLaurin knew or should have known that some of the jail policies and procedures designed to address the risk of self harm or suicide were systematically deficient as implemented and enforced, but did not act reasonably to address them," Yandle wrote.
She rejected his argument that suicide negates liability for wrongful death, holding that generally, suicide wholly mitigates negligence because it is unforeseeable and it breaks the chain of causation.
"That is not the case, however, where the defendant had a duty to the decedent to prevent his or her suicide," she wrote. "
She also denied summary judgment on a claim of excessive force against five officers, keeping them within the wrongful death claim, and on a claim that two officers failed to protect Jurcich, keeping them within the wrongful death claim.
Trial is set to start April 1.
In 16 years, jail officers booked and confined Jurcich 17 times.
In 2008, a jail psychiatrist diagnosed his condition as bipolar disorder. In 2013, a counselor found bipolar disorder, hyperactivity, and substance abuse.
On March 6, 2014, police brought him to jail on a charge that he possessed a controlled substance. On March 9, he told nurse Sandra Thurman he was dope sick.
He said he had scabies, so she placed him in medical segregation.
On March 11, a jailer opened his cell to pass him a lunch tray. Jurcich took it and headed toward the day room.
Officer James Wagener told him to return to his cell; Jurcich refused and Wagener repeated the order.
Another officer called for help by radio.
Officers Dante Beattie, Mark Harris, Thomas Mesey, and Eric Walter responded.
According to Yandle, their reports and video show they struck his knees, used an arm bar, and tried to pressure a main nerve.
"There is a dispute as to whether Jurcich was struggling or kicking during the incident," Yandle wrote.
Officers handcuffed him and took him to a nurse, who approved him for placement in the general population.
She checked a box that read, "Mental health problems requiring routine follow-up."
Day shift officer Patrick Fulton checked Jurcich's cell twice. Night shift officer Jon Knyff checked him at 5:49 p.m. and 6:16 p.m.
At 6:40 p.m., Knyff found Jurcich hanging.
A crew rushed him to St. Elizabeth's Hospital, where he died two days later.
Estate administrator Dawn Corbier retained Northwestern University's MacArthur Justice Center and local counsel LaToya Berry.
Corbier sued Watson, 21 employees, and St. Clair County in 2016.
She amended the complaint in 2017, and dropped many defendants. Nine defendants remain.
On Watson, Yandle wrote that evidence raised an issue as to whether his policies were adequate and whether his department was deliberately indifferent.
"While there were no suicides at the jail before Jurcich's death, there were several significant attempts dating back to at least 2005," Yandle wrote.
She wrote that the record showed Watson was aware of every suicide attempt and didn't revise the policy, and if a jury would find the policy inadequate, it could reasonably find that failure to revise it amounted to deliberate indifference.
Watson had argued that he couldn't be held liable because a wrongful death claim is statutory rather than a common law tort, but Yandle found no basis for his argument and wrote that such claims are common.
On cell checkers Fulton and Knyff, Yandle found issues of fact as to whether they knew or should have known of a substantial risk that Jurcich would harm himself.
She wrote that inmate Ramone Parker testified that he heard Jurcich tell Knyff he would kill himself, and that inmate Gabriel Boyd claimed he heard Jurcich tell almost every officer who came through the area that he would kill himself.
On excessive force, she found no dispute that Wagener, Beattie, Harris, Mesey, and Walter used force purposely and knowingly.
"Defendants note that Jurcich appears to have suffered no injuries from the altercation, but that fact alone is not dispositive," Yandle wrote.
"A reasonable jury could conclude that multiple knee strikes, an arm bar and an attempt to apply pressure to the hypoglossal nerve near Jurcich's neck were excessive, especially if the jury determines that Jurcich was not licking or actively struggling."
Finally, she rejected a plea that the Tort Immunity Act for government employees provides absolute immunity to Watson and qualified immunity for the others.
"No reasonable jail officer who heard Jurcich explicitly say that he was going to kill himself and walked away without doing anything could be under the misapprehension that doing so was legally appropriate," she wrote.
"Similarly, taking the facts in the light most favorable to plaintiff, none of the jail officers who participated in the alleged excessive force incident, if Jurcich was not resisting, could reasonably have thought it constitutionally appropriate."
Yandle also denied summary judgment to jail superintendent Phillip McLaurin.