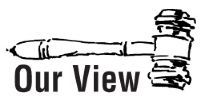 "Where do you live?"
That's a question we hear a lot in the Metro East, because the Metro East is not a large, sprawling metropolis but a collection of nice small towns that we all take pride in. Metro East may be a convenient way of describing a geographic area in southern Illinois across the Mississippi River from St. Louis, but it's not really where we live. We live in Alton, Edwardsville, Collinsville, Belleville, etc. and we prefer to maintain our unique cultures.
Asbestos attorney Barry Julian of Gori & Julian is a resident of Edwardsville – or, at least, he was until he canceled his Madison County voter registration on Dec. 30, 2014 and moved to Florida. At that point, he ceased to be a resident of Edwardsville, because he didn't live there any longer.
Julian may have left his heart in Edwardsville, but his body relocated to and took up residence in the Sunshine State. He was retired. Nevertheless, he was recently appointed an associate judge in Madison County to fill the vacancy left when Sarah Smith was elected circuit judge. His re-registration as a voter in Edwardsville was processed last week.
Maybe Julian's glad to be home again and maybe his fellow residents of Edwardsville are glad to have him back, but there's one problem: Illinois Supreme Court rules require residency for judicial appointments, and applications for the appointment Julian received were due Jan. 7. His voter registration in Madison County, however, wasn't processed until Jan. 25, which, by that measure, means he was not officially a resident when he and 11 other working attorneys applied.
Appointing an asbestos attorney to a judgeship in the court system that handles the most asbestos cases in the nation may not be such a good idea. It only adds to our reputation as a judicial hellhole. But appointing one who did not meet a stated residency requirement at the time is just plain insulting.
Do the laws that the rest of us residents must follow not apply to the ones making and interpreting them?