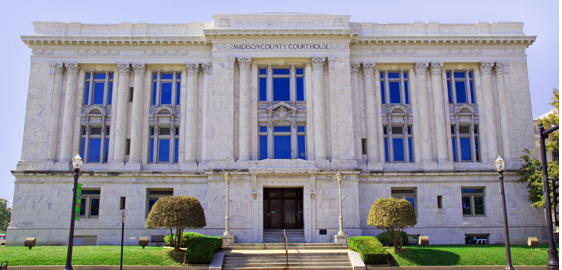 Madison County saw nine jury trials last year, with plaintiffs taking home a total of $186,342 in six of those lawsuits.
Plaintiff verdicts in 2018 may have amounted to two-thirds of the trial outcomes, but jurors sent a clear message to plaintiffs pursuing collision suits after they entered several awards for $1,000 or less. In those suits, a motorist was awarded $1,000 and two bus passengers were awarded $1,000 and $500.
There were three defense verdicts in favor of a motorist, a homeowner and a physician and his medical practice.
Felt v Zenker
Madison County jurors returned a verdict in favor of defendants Alton MultiSpecialists and Dr. Steven Zenker in a suit alleging a boy's germ cell tumor progressed due to delayed diagnosis (14-L-920).
Jurors returned the defense verdict on Feb. 21 in Circuit Judge Dennis Ruth's courtroom.
Plaintiff Midland State Bank, as guardian of Jentzen Felt, was represented by Roy C. Dripps of Armbruster Dripps Winterscheidt & Blotevogel LLC in Maryville.
Alton MultiSpecialists and Zenker were represented by Hinshaw & Culbertson in Belleville.
Midland State Bank filed a two-count first amended complaint on Feb. 5, 2018 against Zenker and Alton Multispecialists.
The original complaint was filed on July 1, 2014, by Stacey Felt, individually and as next friend of Jentzen Felt, and Charles Felt.
They filed a motion for leave to amend the complaint on Jan. 17, seeking to dismiss their individual claims for past medical bills and substitute Midland State Bank as guardian of Jentzen Felt.
The suit alleges that shortly after birth, Felt came under the care of Zenker, a pediatrician working with Alton Multispecialists LTD. Felt was treated up to and including July 3, 2012.
Between December 2011 and July 3, 2012, Zenker examined Felt no fewer than 13 times. According to the complaint, Zenker was repeatedly informed that Felt was suffering from a persistent fever, which was confirmed during examinations.
Felt's family asked Zenker to examine swelling on the child's left buttock. Zenker did examine the swelling during each visit, including abdominal palpations and cardio-pulmonary examinations, the suit states.
Then on Aug. 3, 2012, Felt was taken to St. Louis Children's Hospital due to the persistent fever and concern over the swelling.
Shortly after admission, the swelling was diagnosed as a slow growing, malignant germ cell tumor.
Felt was required to undergo aggressive chemotherapy.
Surgery could not be performed at the time because the tumor had grown so large that it became intertwined with major arteries and nerves, the suit states.
The plaintiff sought a new trial following the defense verdict on May 2, arguing that the defendants' counsel's comments during closing arguments warranted a new trial.
Zenker's counsel allegedly suggested that the reason Felt's parents did not tell Zenker about the bruising on his buttocks was because they wanted to avoid being the subject of a DCFS investigation for child abuse.
The plaintiff argued that the court's in limine rulings prevented the defendants from blaming the parents.
On Sept. 7, Ruth concluded that there was no undue prejudice and the parties received a fair trial.
"Arguments heard, the court finds the verdict was not against the manifest weight of the evidence and there was ample evidence to support the jury's general verdict," Ruth wrote.
Buck v Shrimpton
On April 17, jurors awarded motorist Kathleen Buck $59,342 in a collision suit involving an Alton crash (14-L-1164).
Circuit Judge Andreas Matoesian presided over the two-day trial.
Buck was represented at trial by Keith Short of Edwardsville.
Defendant Jon Shrimpton was represented by Michael Lach of Boggs, Avellino, Lach & Boggs in St. Louis
Buck filed her one-count complaint against Shrimpton on Aug. 26, 2014. She alleged she was stopped on Oakwood Avenue in Alton in her 2002 Pontiac Grand Prix on Dec. 1, 2012. While waiting for a vehicle in front of her to turn, Buck alleged Shrimpton was backing his 2005 Dodge Ram pickup truck from a private drive on Oakwood when he hit the plaintiff's vehicle.
Shrimpton answered the complaint on Sept. 24, 2014, denying liability
Hedger v Nagy
Passenger Michelle Hedger was awarded $12,500 following a one-day trial involving an Alton collision (17-L-22).
Jurors deliberated just 15 minutes before returning the verdict on July 16. Ruth presided over the trial.
Hedger was represented at trial by Eric Terry of TorHoerman Law in Edwardsville.
Defendants Alexandra Nagy and Tracy Schaefer were represented by Tyler Beckerle of Zimmer & Associates in St. Louis.
Hedger filed her complaint on Jan. 6, 2017. She alleged she was a passenger in a vehicle stopped at a stop sign at the intersection of East 4th Street and Henry Street around noon on May 8, 2015.
While stopped, Hedger claimed Nagy was traveling on Henry Street when she disregarded the stop sign, suddenly entered the intersection and caused a collision with the vehicle the plaintiff was riding in. Nagy was driving a vehicle owned by Schaefer.
The defendants denied liability in their February 2017 answer to the complaint, but filed no affirmative defenses against Hedger.
Atkinson v Polzin
Jurors awarded motorist Craig Atkinson just $1,000 on Aug. 15 for pain and suffering following a Michigan crash (13-L-1497).
Circuit Judge David Dugan presided over the trial.
Atkinson was represented by Edward J. Szewczyk of Callis Papa & Szewezyk PC in Granite City
Defendant Nancy J. Polzin was represented by Kenneth P. Williams of Segal McCambridge Singer & Mahoney Ltd.
Atkinson filed his complaint Sept. 3, 2013, alleging he was driving a 2003 Dodge Ram truck on Sept. 5, 2011 traveling westbound in the far left lane on I-94 near Warren Road in Chikaming Township in Michigan. Polzin was driving a 2004 Ford Escape in the same lane when she allegedly rear-ended Atkinson as he slowed down for traffic.
In an Aug. 10 trial brief, Polzin alleged the damages to Atkinson's vehicle was "minimal," and the plaintiff reported no injuries at the scene and declined medical treatment.
On Dec. 5, Dugan denied Atkinson's motion for a new trial.
Atkinson argued that the "jury's verdict in this case was legally inconsistent, as the jury failed to award any damages for two proven elements of damages in this case."
He also argued that the award was "palpably inadequate" to compensate him for his injuries and damages.
Troxell v Pitts
Jurors returned a verdict in favor of defendant Jennifer Pitts on Oct. 3 in a collision suit where both parties claimed they had the green light (16-L-952).
Associate Judge Thomas Chapman presided over the three-day trial.
Plaintiff Patsy Troxell was represented at trial by Gary Growe of Growe Eisen Karlen Eilerts in Clayton and Eric Evans of Evans Blasi in Granite City.
Pitts was represented by Stephen Mudge of Reed Armstrong Mudge & Morrissey PC in Edwardsville.
Troxell files her complaint July 6, 2016, alleging she was traveling eastbound on Illinois Route 143 on Sept. 24, 2015. She claimed she was approaching the intersection of South Moreland Road and attempted to turn left when her vehicle was struck by a vehicle driven by Pitts.
In her affirmative defenses, Pitts denied liability and argued that the plaintiff failed to obey a traffic signal and ran a red light.
During the trial, defense expert witness David Brammeier, a transportation engineer with CBB Transportation Engineers + Planners in St. Louis, conducted a light sequence analysis. Witness statements were used to pin point where each witness was during the crash. Brammeier was then able to determine who would have had the green light based on the witness' scenarios.
Williams v Hayes
Motorist Claire Williams was awarded $12,000 on Oct. 9 in a suit involving a Granite City collision (16-AR-328).
Dugan presided over the one-day trial.
Williams was represented at trial by Randall Steele of Glen Carbon.
Defendant Susan Hayes was represented by Roger Wilson of St. Louis.
Williams filed her two-count complaint on Sept. 6, 2016, alleging she was driving eastbound on Niedringhaus Avenue at the State Street intersection in Granite City on Oct. 2, 2015. Hayes was driving directly behind Williams when she allegedly rear-ended the plaintiff's vehicle while she was stopped at a stop sign.
Arbitrators found in favor of Williams on March 29, 2017, awarding her $22,500, plus costs. Hayes rejected the award on April 24, 2017 and requested a jury trial.
Williams filed an amended complaint on Oct. 3, 2018 reflecting the defendant's death, naming the Estate of Susan A. Hayes as the new defendant. According to a suggestion of death, Hayes died on March 3.
Agee v Modesto
Jurors returned a defense verdict in favor of homeowner Earl Modesto in a suit alleging a guest was injured when she tripped and fell on a rug (17-L-235).
Jurors deliberated just 15 minutes on Oct. 10 before reaching the defense verdict in Circuit Judge William Mudge's courtroom.
Modesto was represented at trial by Dayna Johnson and Donald K. Schoemaker of Greensfelder Hemker & Gale PC in Belleville.
Plaintiff Debra Agee was represented by Brian Wendler, Angie Zinzilieta and Paul E. H. Rademacher of Wendler Law PC in Edwardsville.
Agee filed her two-count complaint on Feb. 14, 2017, alleging she was at the defendant's property on Dec. 6, 2016. She alleged she slipped and fell in the hallway and stairway area when a rug or runner moved underneath her feet.
Modesto denied liability in his answer to the complaint, arguing that the plaintiff had a responsibility to watch out for her own safety.
Before the trial began, Mudge denied Modesto's request to prevent Agee form presenting evidence contrary to her judicial admission that on the night of the incident she told Lifestar Ambulance Service Inc. personnel that she had lived at the residence two weeks, it was dark and she missed the steps.
He also denied a motion to prevent Agee from presenting any evidence contrary to the judicial admission she made to Dr. David Risenberger at OSF St. Anthony's Health Center that "she had only been in the residence two weeks, the area was dark, she thought she was turning into a room when she stepped into a stairwell and she fell the full extent of the stairs to the floor."
She also allegedly told a Madison County Sheriff's Deputy that she had turned too much and fell down the stairs.
Sanders v Morietta
Jurors awarded motorist Georgetta Sanders $100,000 on Oct. 16 in a suit involving a Wood River collision (16-L-662).
Dugan presided over the two-day trial.
Sanders was represented at trial by Timothy Chartrand of Williamson Webster Falb & Glisson of Alton.
Defendant Kaylie Morietta was represented by Jon Skrabacz.
Sanders filed her one-count complaint on May 13, 2016, alleging she was driving her 2002 Toyota Camry eastbound on Route 111 on Oct. 15, 2014. She claims she was making a left hand turn onto Wesley Drive in Wood River when Moriette, who was driving his 2006 Ford Mustang in the opposite direction, drove through the intersection and allegedly caused a collision.
Sanders alleged she had a green arrow signaling her with the right-of-way to turn left. She also claimed Morietta had a solid red traffic signal when she entered the intersection.
The case was transferred to the arbitration docket on July 7, 2017, after Sanders filed a motion to transfer.
On Dec. 13, 2017, the arbitrators entered an award in favor of Sanders for $18,000.
Morietta rejected the award on Jan. 4, 2018.
Boda and Graves v Rodriguez
Two bus passengers alleging they were injured when a motorist struck the rear of a Metro transit bus were awarded $500 and $1,000 (15-L-1436).
Associate Judge Stephen Stobbs presided over the three-day trial, which came to an end Oct. 17 when jurors found in favor of plaintiffs Lisa Boda and Prester Graves and against Anna Rodriguez.
Boda was awarded $500 and Graves was awarded $1,000.
Jurors found that defendants Eric Fry and Agency for Community Transit Inc. were not liable.
Boda and Graves were represented at trial by Charles Armbruster and Mike Blotevogel of Armbruster, Dripps, Winterscheidt & Blotevogel LLC in Maryville.
Rodriguez was represented by Michael P. Murphy of Freeark, Harvey & Mendillo PC in Belleville.
Fry and Agency for Community Transit were represented by Donald J. Ohl of Knapp, Ohl & Green in Edwardsville.
Boda filed her four-count complaint in November 2015 against Rodriguez, Fry and Madison County Transit, which was later substituted with defendant Agency for Community Transit Inc. Fry was the driver of the bus.
The case was consolidated with Graves' case on March 23, 2016.
According to the complaint, the plaintiffs alleged they were passengers on a Madison County Metro East Transit bus on March 9, 2015. At approximately 3:30 p.m., the bus was stopped in the easternmost, northbound traffic lane on Milton Road at its intersection with Coronado as passengers were loading.
The plaintiffs alleged Rodriguez was driving a Chevrolet Cavalier in the same lane as the bus when she allegedly rear-ended the bus.
Boda and Graves had sought to amend their complaint on Oct. 17 to plead punitive damages against Rodriguez after the defendant indicated that she intended to admit liability days before trial was set to begin.