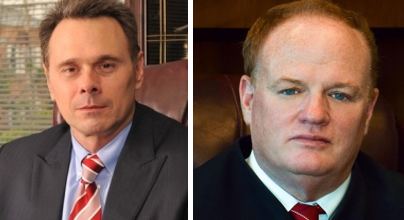 Duebbert, Gleeson
Following the acquittal of David Fields, the man accused in the Dec. 30, 2016 murder of Carl Silas of Belleville, it is unclear whether the investigation into the killing remains open, or if it is case closed.
Fields - whose case attracted heightened scrutiny because of his friendship with St. Clair County Circuit Judge Ronald Duebbert - was acquitted by a jury last month after spending nearly two years in the county jail on first degree murder charges.
Prosecutors were unable to deliver any physical evidence tying Fields to the scene of Silas's shooting, and witnesses claiming to identify Fields were treated with skepticism, as they had provided testimony that contradicted themselves and one another.
A blood spatter expert also gave evidence that Silas could not have been shot in his bed as prosecutors alleged, suggesting that he was shot in a standing position.
The Greater St. Louis Major Cases Squad told the Record it was not its place to initiate any renewed investigation and referred queries to St. Clair County Sheriff Richard Watson.
Sheriff Watson did not immediately respond to a request for comment and information on the Silas murder, and whether it remains open. The case is made cloudier as it is alleged two men invaded the apartment the night of the murder.
One certainty is that Duebbert will not be returning to the bench following his initial removal from felony cases in December 2016 - because of his association with Fields - a move that opened to the public a tale that continued with many twists and turns over the last two years.
In an email message, Chief Judge Andrew Gleeson told the Record: "As to Judge Duebbert, he remains on administrative duties until the resolution of the Complaint that was filed by the Judicial Inquiry Board that is pending before the Illinois Courts Commission."
Gleeson took Duebbert off his felony docket assignment shortly after he defeated then chief judge John Baricevic in the Novemer 2016 election.
Duebbert was accused of "harboring a felon" after it emerged Fields lived at his home for a short time after being released from prison on parole in October 2016 while his campaign for judge was underway. Before Fields' incarceration on a prior felony battery conviction, Duebbert and Fields were friends, Duebbert has maintained.
Then came the murder of 28-year-old Silas in an east Belleville apartment, and the quick arrest of Fields, then 20. The mother of Silas's children, Jamie Lott, told police that Fields, whom she described as her cousin "Day Day," was the shooter. Lott and other witnesses in the apartment also said another "light skinned" Black male was an accomplice.
While Lott provided various names of a possible second shooter, a suspect was never arrested. And the murder weapon - alleged to have been a rifle - was never recovered.
In the course of the murder investigation, police claimed that Duebbert may have lied to officers over his contacts with Fields on the night before and after the murder. Police detectives are believed to have recommended obstruction of justice charges against Duebbert.
In July 2017, prosecutors presented St. Clair County grand jurors with information on Duebbert's alleged obstruction, but the grand jury did not indict.
Almost immediately after the Silas murder, Duebbert was removed from the bench entirely and placed on administrative duties. A complaint initiated by Gleeson was filed with the Judicial Inquiry Board which then filed charges against Duebbert alleging he provided false and misleading information to police that contradicted his testimony regarding a phone he loaned to Fields.
After the grand jury hearing the case against Duebbert failed to bring obstruction charges, the next challenge he faced came in the fall of 2017 when the St. Clair County State's Attorney's office filed felony sexual abuse and intimidation, and other misdemeanor, charges against Duebbert. The obstruction of justice and sexual abuses cases against Duebbert were handled by the Illinois Appellate Prosecutor's Office at the request of State's Attorney Brendan Kelly.
Former client Carlos Rodriguez had claimed that about a month before his election in 2016, Duebbert offered to reduce his legal fee in exchange for a sex act.
Rodriguez provided Belleville police with a signed affidavit, rather than an interview.
On the day the televised case was set to go to trial in July, it was dismissed.
In a memo sent by the special prosecutor Lorinda Lamken to Duebbert's defense team, it was explained she was seeking the dismissal of the charges "at the victim's request."
About a month before the sexual abuse case against Duebbert was set to go to trial, Lamken admitted to the visiting judge that even before charges were filed she had received a text message from Rodriguez's lawyer Alex Enyart of Belleville that the accuser had embellished his story.