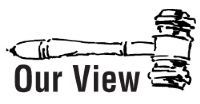 Our world seems to have gone mad. Reason has been rejected and emotions rule. Thanks to identity politics, civil discourse is nearly impossible.
If you belong to an out-of-favor group, or can be portrayed as such, it doesn't matter whether you're right or wrong, whether the facts are on your side or not. You're demonized and your arguments are rejected.
If you're labeled a fascist or a racist or a sexist, or simply accused of wrongdoing, you're finished. It doesn't matter if there's no evidence to support the charge. If the label or accusation sticks, you're done. In the meantime, you're faced with the impossible task of proving a negative. Trying to defend your reputation is seen as proof that you have something to hide.
There seems to be a current mood today in which: All men are sexists. All whites are racist. All conservatives are fascists. All accusations are true.
Whatever happened to the color-blind society that Martin Luther King Jr. advocated for? Whatever happened to due process? When did we stop striving for that?
Lori Friess of Belleville founded a group called Justice for Kane to raise awareness about child abuse, and that seems like a good thing. Kane was her two-year-old grandson who died in April 2017 of head trauma allegedly inflicted by Gyasi Campbell, the boyfriend of her daughter, Lindsey, Kane's mother.
Friess is white, Campbell black.
When the St. Clair County Circuit judge overseeing the murder trial for Campbell – Zina Cruse, also black – reduced the bond for the defendant, Friess launched a movement to prevent her retention in the upcoming election. On the surface, that seems like a legitimate way for a grassroots group to respond to a judge's unfavorable decision.
But, Cruse was only following the guidelines established by the Bail Reform Act of 2017, which in part addressed the unfairness that poor people face in coming up with bail money pending trial.
Friess denies Justice for Kane and its members harbor racial animosity, and we'll accept that. However, we condemn the hatred, filth and unquestionably racist rants spewed by a Belleville radio host aimed at Cruse and whomever else falls on his enemies list. We wish others who represent us in government would take a stand too.
For now, let's put emotions aside and stop labeling people. Let's go to the polls next month and elect the right candidates for the right reasons.